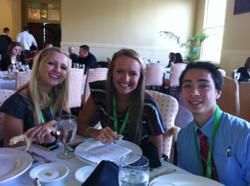 The company invited 30 high school students from Utah's Canyons School District to visit its offices as part of an annual job-shadowing event, more than any other company in the state
Salt Lake City, UT (PRWEB) February 03, 2012
The leaders and employees of PD developer School Improvement Network have a lot to be grateful for, a fact that company CEO Chet Linton is quick to remind them of.
"At School Improvement Network we live by the adage 'where much is given, much is expected,'" he says. "It's embedded in the culture of our company. We work hard to show gratitude and take responsibility for the community that continues to help us achieve our vision of elevating 100 percent of K-12 students to college and career readiness."
As part of School Improvement Network's ongoing mission to reach out to their community, the company invited 30 high school students from Utah's Canyons School District to visit its offices as part of an annual job-shadowing event, more than any other company in the state. The students, who ranged in age and career interests, had to opportunity to visit with company employees, observe operations, ask questions, and even pitch in and work.
"We had students shadowing professional development advisors, graphic designers, customer service, human relations—nearly every department," says Linton. "The young people were wonderful. They were bright and curious, and impressed us greatly. If they're an accurate sampling of the caliber of student in Utah, I have absolutely no worries for the future of the state."
The day ended with a luncheon sponsored by the Canyons School District, where speakers encouraged students not to fear failure as they follow their dreams, and to seek mentors as they forge ahead in their careers.
"Our thanks to the Canyons School District for letting us be a part of this fantastic event. We look forward to supporting them in the future, and supporting their students as they move on beyond high school and into their careers."
About School Improvement Network
Founded in 1991 by teachers, the School Improvement Network provides comprehensive, research-based professional development anytime, anywhere. As the home of The Video Journal of Education, PD 360, Observation 360, the Learning 360 Framework, Equity 360, and Common Core 360, School Improvement Network resources focus on the most relevant topics, feature the top experts, and show educators how to put theory into practice. School Improvement Network works with thousands of schools and districts in every state and around the world and has visited over 3,500 classrooms to document best practices in action. Learn more at http://www.schoolimprovement.com.
School Improvement Network, PD 360, and their respective logos are trademarks of the School Improvement Network. All other trademarks and registered trademarks are the property of their respective owners.
Press Contact:
Duane Sprague
School Improvement Network
801-758-9546
duane(dot)sprague(at)schoolimprovement(dot)com
###