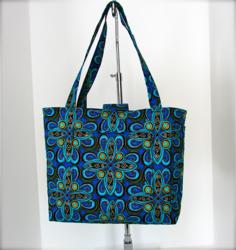 Handmade goes to Hollywood! Get Hollywood style for everyday life.
Highlands Ranch, CO (PRWEB) February 08, 2012
Janice Mahoney, Owner and Designer of Mama Mahoney Creations, is a mompreneur that started her business three years ago. Happily married and a Mom to three kids, Janice looks for items that are easy to care for and that fit her casual style. Unable to find what she was looking for in the ready made market she began making her own quilted totes and giving them as gifts to friends. Prompted by positive responses, she began selling her items in 2008.
Her business started in her hometown of Pittsburgh, PA and has since moved with her family to Highlands Ranch, CO. Janice is a graduate of the University of Pittsburgh and worked as a preschool teacher prior to having her children.
The new Inspiration Tote will make its debut and be prominently featured on display at The Artisan Group's exhibit. All attending celebrities will receive a small quilted wristlet in Indian Batik with a gold metallic swirl in their swag bags.
To learn more about Mama Mahoney Creations and her products, or her participation in GBK Productions' Gift Lounge, visit http://www.mamamahoneycreations.com, call 720-443-9035, or email mahoney(dot)janice(at)gmail(dot)com
Janice Mahoney, Mama Mahoney Creations' sole proprietor, is a resident of Highlands Ranch, CO.
For press inquiries regarding The Artisan Group, please visit http://www.theartisangroup.org or email press(at)theartisangroup(dot)org.
###