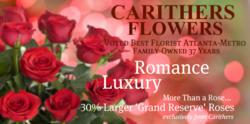 Atlanta, Georgia (PRWEB) February 05, 2012
Carithers Flowers, a second generation, family-owned full service florist that serves the entire Atlanta, Georgia and Atlanta Metro areas, and voted #1 Florist in Atlanta and the surrounding areas for 12 consecutive years, is preparing for its busiest Valentine's Day ever by importing over 40,000 roses and offering a wide range of specials and sale prices on all of its Valentine's Day floral bouquets. This in line with expected increases reported by the National Retail Federation, which found that 2012 will be a record year, reaching the highest level in ten years at $126.03 for each shopper.
Recognizing the value in offering customers the best deals in the Atlanta area as well as for online Valentine's Day shoppers, Carithers has created many beautifully arranged bouquets and floral sentiments for this coming Valentines Day. In fact, Carithers Flowers has secured exclusive rights from to the Grand Reserve Rose from the plants actual grower.

Grand-reserve luxury roses are 30% larger with luxurious velvet petals. The blossoms are incredibly beautiful and larger than most standard roses. Carithers is promoting the Grand Reserve during Valentines by offering 18 stems for the price of 12 for VIP members. These Grand Reserve Roses have historically sold out every single Valentines Day!
Of the 40,000 flowers purchased from the farms, Carithers also devotes a significant portion of the overall purchase to traditional roses as well. Such as the Fantasy Yellow Roses, Valentine Carnival Roses, Bi-Pink Aspen Garden Roses, Carithers Hot Pink Firework, and Lavender Roses.
Carithers has created a number of unique floral arrangements that combine beautiful roses with other treasured flower types. There are Red Roses and Lilies and Roses and fabulous Holland Tulips. The nationally acclaimed Carithers floral team also creates a wide array of customized floral arrangements to fit any Valentines need.
One of the more impressive arrangements noted during a recent visit to Carithers Flowers, was their Opulence bouquets. They contain 48 roses, per arrangement!
Going through 40,000 flowers by Valentines seems like a tall task, but, Carithers is also planning to include Mylar balloons, cute teddy bears and Godiva chocolates in many of their arrangements. The staging area, or floral design room as Carithers refers to it, is literally bursting at the seems with product.
Carithers offers same-day delivery to the Atlanta area. For national deliveries, Carithers offers a same-day delivery through their proprietary 'best of the best' family-florists option by calling 1-800-980-3000. Owner of Carithers Flowers was quoted as saying, "even though we purchased 40,000 flowers for this coming Valentines Day event, we fully expect those flowers to completely sell out, prior to the 14th of February." Appears it would be wise to place an early order to ensure Grand Reserve Roses can be part of the arrangement.
About Carithers Flowers
Carithers Flowers was started in 1973 by founders, Larry & Jane Carithers. Their customers and partners include many Fortune's 1000 companies, well-known retail brands, celebrities, and families who have patronized Carithers for three generations. Award winning florist, Charles Carithers perpetuates the customer focused tradition. The Carithers' difference is to help their customers recognize, celebrate, and share the special moments and special people in their lives. Discover why Carithers is voted best florist in Atlanta year after year. For more information, please visit http://www.carithers.com. Follow Carithers Flowers on: WooEB, Twitter, WordPress and Facebook.
Contact Information
Charles Carithers
404-542-0809
chrls(at)bellsouth(dot)net
info(at)carithers(dot)com
http://www.carithers.com
# # #