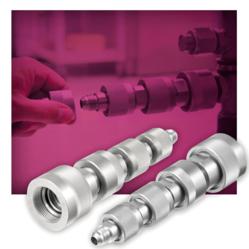 Minneapolis, MN (PRWEB) February 06, 2012
FasTest announces TwistMate AN Step connectors for calibrating flow transmitters on flow benches. TwistMate AN Step connectors simplify flow bench step tree connections by delivering fast, leak-tight threaded connections without the use of thread sealant and wrenches, and with minimal force. The step connectors, or transitions, are specifically designed for the aerospace industry, providing incremental transitions from AN 32 down to AN 4 to allow simple calibration of flow from different sized aircraft transmitters.
Calibration of flow transmitters on a flow bench requires connection of the flow bench pressure outlet to the input of the flow transmitter. There is often a mismatch in AN connector sizes, and step down adapters must be used to compensate for the mismatch in AN fitting sizes. However, making leak-tight connections at each step can require significant time and force, often damaging the transmitter's connector threads or the transmitter itself. Now, TwistMate AN step connectors can be simply spun on finger tight until the connector's seal comes in contact with the test piece. TwistMate connectors seal when the system is pressurized, with the pressure in the system maintaining the seal via internal pressure assisted sealing.
AN Step connectors allow connection to a flow source with a male AN fitting of the required sizes from AN 6 up to AN 32. To step down to the appropriate AN female flow tube connector, AN reducer or step-down connectors are available to match up with the application. Manufactured from stainless steel material and featuring easily replaced seals, TwistMate AN Step connectors deliver reliable and long-lasting performance. Field-replaceable seals are available in a variety of materials, including EPDM, Viton, Urethane and other compounds.
For additional information, including contact information for lead reports, contact FasTest's publicist: Kate Flaherty (Next Communications). Phone: 952-934-8220. Email: katef(at)nextcom(dot)com.
FasTest is a dedicated manufacturer of productivity and high quality improvement connection tools for pressure, flow and vacuum testing applications. FasTest's complete line of specialty connectors are designed to provide leak-tight, reliable connections for calibration and other industrial manufacturing applications. Custom leak test capabilities are available for unusual or unique requirements.
For additional FasTest products or information, contact:
1-800-444-2373 • http://www.fastestinc.com • fastsales(at)fastestinc(dot)com
###