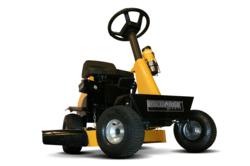 The company goal is to make caring for your lawn and the environment seamless
Carson, CA (PRWEB) February 07, 2012
Caring for your lawn should not mean adding nasty emissions into the air. A green lawn should translate into a green environment. The line from Recharge Mowers is designed to provide lasting, emission free results without nasty gas emissions.
The Recharge Mower G2 is an electric rechargeable riding mower that cuts up to 2 acres on a single charge. The G2 is designed to delivery uncompromising performance. The 36v85Ah system powers the heavy duty drive motor and the dual direct drive cutting blades. The 30" wide deck includes 7 selectable height adjustments. Complet complete with choice of side discharge or mulching that provides vital nutrients to your lawn.
The Lithium powered ULTRALITE Recharge Mower is compact, easily maneuvered and extremely lightweight at only 35 lbs. Featuring a lithium battery weighing under 4 lbs., the ULTRALITE has the power and performance that urban and suburban users demand. The unit includes a rear bagger and mulching option for the perfect manicured result.
"We are focused on sustainability and the environment", says President Allan Hechtman. "The company goal is to make caring for your lawn and the environment seamless".
The Recharge Mower is gaining placement throughout North America. Ordering and delivery is easy through a host of online partners including Amazon.com, Home Depot.com, Mowers Direct.com and Sears.com with more partners being added.
For product details and information videos, visit http://www.RechargeMower.com or any of the online retail partners.
Driven By Solar Inc., the company behind the Recharge Mower and Recharge Tools brands and registered trademarks, was established in early 2008. The company is focused on developing, producing and marketing a growing selection of environmentally friendly lawn and garden tools. The company can be reached at Info(at)rechargemower(dot)com or by calling 905-997-9300. The company credo… "A greener lawn. A greener planet." remains well entrenched.
###