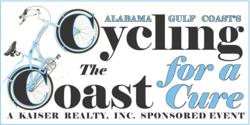 We have all been touched by cancer in some way, and through this event, Kaiser Realty, Inc. is able to show our support for improving lives of those in our neighborhoods, in Baldwin County and throughout the nation.
-Emily Gonzalez
Gulf Shores, AL (PRWEB) February 03, 2012
The 6th Annual "Kaiser Realty, Inc. Cycling the Coast for a Cure" is set for April 14th, 2012. Starting and finishing at Tacky Jack's Grill & Tavern in Orange Beach, this family focused event is the company's primary fundraiser for the American Cancer Society's "Relay for Life". The relaxing bicycle ride is intended to bring together the community and showcase the Gulf Shores / Orange Beach area. Featuring a 13 mile "Fun Ride", a 21 mile "Short Course" and a 37 mile "Long Course," cyclists of all ages and skill levels are invited to participate and show their support for the American Cancer Society. Raising more than $4,000 with nearly 100 participants in 2011, this year's event is expected to be one of the spring's most anticipated fundraisers.
Registration for the event is currently open to all interested participants and can be completed by visiting http://www.CyclingTheCoast.com, or by calling Kaiser Realty, Inc. at (251) 968-6868. The registration fee is $35 for the 21 mile or 37 mile courses, and $25 for the 13 mile "Fun Ride". The registration fee includes lunch at Tacky Jack's as well as a "2012 Cycling the Coast for a Cure" t-shirt.
"We are elated to be hosting the 6th annual 'Cycling the Coast for Cure' which brings together the people of our community for a strong and united cause," stated Emily Gonzalez, Director of Marketing and Public Relations for Kaiser Realty, Inc. "We have all been touched by cancer in some way, and through this event, Kaiser Realty, Inc. is able to show our support for improving the lives of those in our neighborhoods, in Baldwin County and throughout the nation."
There will be live music and additional door prizes raffled off at the post-race celebration at Tacky Jack's. Tickets for the raffle can be purchased at Kaiser Realty, Inc.'s office in Gulf Shores, at participating Tacky Jack's locations or through the event participants themselves.
A special thanks to all of our sponsors: Tacky Jack's, RoadID, Lower Alabama Parrot Heads, The Gulf Shores & orange Beach Sports Commission, Bayside Signs, Eastern Shore Cycles, Amazing Eyes and Sunny 105.7FM.
Contact:
(251) 968-6868
Follow Up Questions: Emily E. Gonzalez, Marketing/Public Relations Director, EmilyG(at)KaiserRealty(dot)com
Written and Distributed By: Adam Pfaff, Public Relations Coordinator, AdamP(at)KaiserRealty(dot)com
http://www.KaiserRealty.com
About Kaiser Realty, Inc.: Since 1980, Kaiser Realty, Inc. has been renting, selling and managing the finest vacation homes and condominiums available in Gulf Shores and Orange Beach. With the blue green waters and sugar white sand beaches of the Gulf Coast, it is hard to find a more beautiful location for your next home or home-away-from-home. Offering Gulf front condominiums ranging from 1 to 6 bedrooms and vacation homes sleeping up to 30 people, Kaiser Realty will help you create the perfect vacation, retreat, wedding or work function. Visit us at http://www.KaiserRealty.com or call (800) 225-4853 to speak with one of our Reservation Professionals, Sales Representatives or Rental Managers today!
Corporate Mission: "Kaiser Realty, Inc. has a tradition of fulfilling dreams for our customers, our employees and in our community. Our philosophy is to deliver exceptional, professional service with integrity, enthusiasm and a genuine caring attitude. Whether it's for a vacation or a lifetime, our family is committed to yours."
# # #