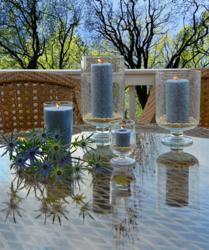 "All of our candles and wax fragrance meltables are made in America."
David Oreck
Greensboro, North Carolina (PRWEB) February 05, 2012
David Oreck is well known in households across America as the entrepreneur who manufactured and sold the lightweight Oreck Vacuum cleaner.
But what people may not realize is in recent years, Oreck has also invested in a candle and fragrance company.
The company manufactures all of its candles and wax fragrance meltables (the company's term for wax fragrance cubes that can be melted in a crock-pot like device called a warmer) in its own factory in Greensboro, N.C.
Until recently, Oreck's products were mostly sold through a few small retail stores.
As Oreck explained, his devotion to America, and a strong desire to put more women and men to work, prompted him to start the new home party sales division called "David Oreck Candle Company."
"At this stage in my career, my goal is to give back to America – a country that I love dearly - and to provide opportunities for women and men to impact their financial circumstances by joining my team and selling our products through home parties," Oreck said.
The company uses a very simple format for its home parties.
Its "Scent Specialists" (the company's terms to describe its independent consultants) book parties with hostesses. Her job is to invite 10-15 relatives, friends, neighbors, and co-workers to enjoy a fun evening shopping in the comfort of the hostess' home.
"The company offers a very lucrative program for hostesses," Oreck said. "Literally she can earn free product, half-price products, and exclusive items strictly reserved for hostesses as our way of saying thank you for hosting the party."
What are the benefits of joining David Oreck Candle Company?
"The company offers a commission and compensation structure that can provide a lucrative part-time income, or, for those who choose to work the plan, a replacement for a full-time job," Oreck said.
Oreck explained that Scent Specialists earn commissions from the sales at each home party, and can also earn commissions through re-orders, catalog parties, and through their personal websites that are provided by the company.
"But the earning potential doesn't stop there," Oreck explained.
"When our Specialists sponsor new consultants into the company, and help them get their businesses off to a strong start; they earn bonuses from the sales of those newly sponsored consultants for as long as they remain active with the company," Oreck said.
Who is Oreck looking for to join his team?
"This type of business opportunity is appealing to a wide variety of people," Oreck said.
First, Oreck is looking for people with previous party plan experience, who might be looking for a new company to align themselves with, and want to benefit from getting started at this "ground floor" stage.
"We'd like to find key people in all fifty states who have the experience and connections to build their teams rapidly," Oreck said.
Second, this is the perfect type of business for stay-at-home Moms.
"Many mothers would love to be able to stay home with their children, but need some additional financial resources," Oreck said.
Contrary to a part-time job, the David Oreck Candle Company business model provides flexibility that is helpful with a busy family.
Third – people who have a strong desire to change their financial circumstances, and are highly motivated to do so.
"This is America," Oreck said, "Through hard work, I have been able to live the American dream, and I want others to be able to do the same."
What's the Investment to Get Started?
"The company offers three different sample kits – ranging in price from $175 plus shipping for our largest kit, down to just a $19.95 shipping charge, as part of our earn-your-kit program," Oreck said.
Oreck has set some big goals. He wants David Oreck Candle Company to be one of the fastest growing home party businesses in the U.S. in 2012.
For more information about David Oreck Candle Company, or its business opportunity visit HomePartyCandleBusiness.com, or call toll-free 1-877-375-8411.
###