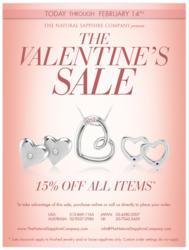 New York, NY (PRWEB) February 03, 2012
The Natural Sapphire Company's 2012 Valentine's Day Sale is finally here! The sale, available via the company's website, http://www.TheNaturalSapphireCompany.com, will run from today through Valentine's Day, February 14th.
"Valentine's Day is the perfect time to show your appreciation for your significant other. We have a wonderful collection of sapphire jewelry including sapphire rings, earrings, pendants, and necklaces. These pieces make perfect presents; they look spectacular and show you really care. No matter what item you select, a sapphire is always a romantic gift," said Michael Arnstein, CEO of The Natural Sapphire Company.
Sapphires, and sapphire rings to be specific, have become extremely popular in recent years because of the royal engagement and wedding of Prince William and Kate Middleton. The Prince famously presented Kate with his mother's oval blue sapphire engagement ring in November 2010. While sapphire engagement rings are not a new trend, as colored stones are favored amongst the royal families in Europe, their popularity is picking up steam in the United States and elsewhere thanks to their beauty, individuality, and enduring value.
In addition to their existing range of jewelry, the Natural Sapphire Company has introduced a new collection of silver sapphire jewelry, just in time for the Valentine's Day Sale. The collection, focusing on sapphire earrings and pendants, is exceptionally affordable and stylish. The Natural Sapphire Company's silver collection also includes the welcome addition of men's sapphire cufflinks.
The Natural Sapphire Company invites its customers to enjoy the Valentine's Day Sale discounts and receive 15% off all sapphires and sapphire jewelry through Valentine's Day, February 14, 2012.
About The Natural Sapphire Company:
The Natural Sapphire Company specializes in mining, sourcing, and selling natural untreated sapphires. Founded in 1939 by Walter Arnstein, the company is now a third-generation family business. The Natural Sapphire Company supplies sapphires to retailers, jewelry manufacturers, and private clientele. The company launched its Internet retail section in 1999 and has since become a popular e-commerce website. The Natural Sapphire Company is known to have the world's largest collection of natural, untreated loose sapphires, as well as offering for purchase a one-of-a-kind, 69.35 carat natural oval blue sapphire.
# # #