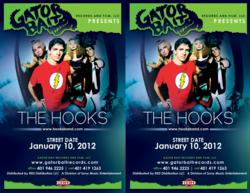 Four Siblings from Penscola Florida bound for Stardom
Pensacola, FL (PRWEB) February 05, 2012
Sony Backed Siblings "The Hooks" Break Top 40 on The AC Chart
With Sony's RED Distribution in place, Rhode Island based Gator Bait Records and Film unleashed a new band onto the music scene known as, The Hooks, a Pop Rock band from Pensacola, Florida.
The Hooks, four siblings from the Gulf Coast, have exploded onto the national radio charts debuting at #112 on the FMQB AC radio chart with their debut single, "Comin After Your Love". They tied British Pop star, Adelle, for the #1 most added song in the country during their first week on the radio and now have broken into the Top 40 landing in at # 37 and are steadily climbing the chart. Check out the charts: http://fmqb.com/ac.asp.
Nick, Kyle, Maggie and Raleigh are dynamic, young adults with tremendous talent inherited from their dad, Nicky Hooks, who has been in the music industry for 40 years. Nicky has played with many legends, as well as fronted his own band, a southern favorite "Floyd The Barber".
The Hooks have been opening shows for major acts like, "All Star Weekend" and "Hawthorn Heights", while headlining their own shows at middle schools and intimate venues in Florida, Alabama, and Tennessee. Their live show is amazing and a must see event.
Their self titled CD, "The Hooks", was released on January 24th through Sony's RED Distribution and national touring will begin to support radio play and record sales. "The Hooks" music is available on iTunes, Amazon, and where ever great music is sold.
This band, who is making music a family affair, is bound for stardom with music that appeals to all ages. They are steadily gaining momentum, commanding attention from the press, and building a loyal fan base every day. Read more about The Hooks at http://www.pnj.com/article/20120114/LIFE/201140303/-1/7daysarchives/Gulf-Breeze-siblings-find-perfect-harmony-Hooks.
Check out The Hooks at http://www.hooksband.com or on Youtube where their self produced music videos are a huge hit.
Get to know The Hooks members:

Nick-vocals
Kyle-lead vocals and guitar
Maggie-vocals and keys
Raleigh-vocals and drums
Everyone is talking about The Hooks!
For more information, please contact
Gator Bait Records and Film, LLC
401.946.2225 (office)
401.419.1263 (promotions cell)
Email: gatorbaitrecords(at)gmail(dot)com
For Radio Promotions, please contact
Amanda @ South Beach Promotions, 970-377-0313
###