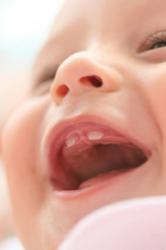 Encourage children to drink from a cup by their first birthday and discourage frequent or prolonged use of a sippy cup.
Glendale, CA (PRWEB) February 03, 2012
Most parents and caregivers don't realize that babies are born without the bacteria that can lead to cavities. This is why, in honor of National Children's Oral Health Month, officials from the California Dental Hygienists' Association (CDHA) today offered reminders that the best way to protect against childhood oral health diseases is through prevention.
Adults have more than 600 different types of bacteria and other microorganisms dwelling in their mouths, according to CDHA. Caregivers pass on these germs by unknowingly sharing saliva - by sharing spoons, by testing food before feeding it to babies, by cleaning off a pacifier in their mouth instead of with water, and through other activities where saliva is shared.
"These germs will start the process that causes cavities, so it is important to avoid sharing saliva with your baby right from the start," according to Lisa Okamoto, President of CDHA.
Prevention starts with simple changes in the caregivers' habits as well as attention to the basics: brushing and flossing at least twice a day, and seeing a dental professional on a regular basis.
"We are promoting this issue because unfortunately many Californian children and families are going without any professional oral health care," said Okamoto. "Left untreated, cavities can lead to severe toothaches, tooth loss, speech impediments, loss of self-esteem, and a wide range of infections."
Here are some important ways parents and caregivers can protect themselves and their children from cavities:
● Avoid putting things from your mouth into your child's mouth. This can transfer bacteria and seed your child's mouth with cavity-causing bacteria. Never clean a pacifier or other object by placing it into your mouth.
● Babies should not be given bottles of juice or other sweetened drinks, as this can cause rampant cavities known as baby bottle decay. Only milk, formula, breast milk, or water should be placed in the bottle. Babies should never be put to bed with a bottle.
● Encourage children to drink from a cup by their first birthday and discourage frequent or prolonged use of a training (sippy) cup - use a sippy cup for no longer than three months.
● Limit the intake of sugars and sweets. Add xylitol, a natural sugar substitute that prevents cavities and is safe for diabetics, into your families' diet. Please click here visit the following link for more information regarding xylitol: http://www.cdha.org/downloads/CDHA_MAD_PSA-xylitol-640x480.mov
● Visit your dental professional twice a year for check ups; establish a dental care provider for your baby by the age of six months or by the eruption of the first tooth. The entire family should be visiting a dental professional regularly.
● Before your baby's first tooth becomes visible in the mouth, you should wipe the mouth every day with a soft, moist washcloth. As soon as teeth become visible in the mouth, brush the teeth with a small soft bristled toothbrush that contains a smear of fluoride toothpaste.
● Observe your children brushing their teeth to be sure they are doing so properly. Children under the age of seven lack the hand coordination to brush and floss their own teeth, so plan on helping them, and use it as an opportunity to teach them proper care and technique.
For more information, please visit the CDHA web site: http://www.cdha.org
The California Dental Hygienists' Association (CDHA) is the authoritative voice of the state's dental hygiene profession. The organization was established more than 25 years ago when two regional associations merged to form a unified professional group. CDHA represents thousands of dental hygienists.
# # #