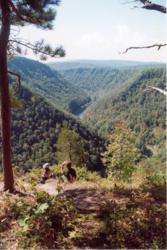 Wellsboro, PA (PRWEB) February 07, 2012
The Tioga County Visitors Bureau is directly promoting to Philadelphia, Harrisburg, and Washington, DC at travel shows.Those looking for travel and vacation ideas have had or will have the opportunity to find out more about Tioga County, Pennsylvania - home of the Pennsylvania Grand Canyon at some regional travel consumer shows.
On January 14 and 15, Tioga County Visitors Bureau was on display at the Philadelphia Inquirer Travel Show held in the Pennsylvania Convention Center in Center City Philadelphia. Over 500 people stopped at the booth for more information and the opportunity to speak with staff members of the Bureau.
Starting February 4 through February 12, Tioga County will be part of Keystone Mountain Country - a collaboration of four counties in the north central part of Pennsylvania - Tioga, Lycoming, Clinton, and Potter at the Eastern Sport and Outdoor Show in Harrisburg, Pennsylvania. Their booth can be found in Northeast Hall, booth #2107. Visitors will have the opportunity to learn about trails, lodging, activities, dining, and much more available throughout the four-county region.
In March, consumers in the DC Metro area will have the opportunity to learn about the Pennsylvania Grand Canyon and all the other great attractions within Tioga County, Pennsylvania, at the DC Travel & Adventure Show on March 17 & 18 at the Walter E. Washington Convention Center. Show hours are Saturday 10 AM to 5 PM and Sunday 11 AM to 4 PM.
Travel Shows are a great opportunity for consumers to explore many different destinations as potential vacation ideas under one roof.
###