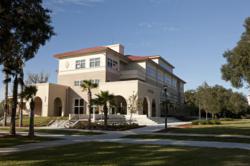 Saint Leo, FL (PRWEB) February 06, 2012
Online education and career publication SuperScholar.org has named Saint Leo University No. 22 in its 2012 "Smart Choice" ranking of the best online MBA programs. The list represents the top regionally accredited business schools with online programs, ranked for their quality, marketability and affordability.
Online MBA programs have become a popular option for adult and mid-career students who want to get ahead, while studying on their own time. As more and more competitive business schools develop programs to respond to growing demand, not only is the popularity of the online MBA growing, but so is prestige and credibility. In fact, a 2011 study by the Pew Research Center found that 51 percent of college presidents say that online courses provide the same value as traditional courses.
Saint Leo has been offering online MBA programs since 2002. The Catholic, liberal arts university in Central Florida has been named one of the top universities in the South by U.S. News & World Report.
The 36-credit hour MBA is designed to build students' analytical, business communication and leadership skills, as well as technological expertise and ethics—preparing them to be successful business pioneers of the 21st century. Saint Leo MBA students can choose concentrations in accounting, health care management, human resource management, information security management, marketing and sport business. Students can complete the program in as little as one year, taking up to two courses per eight-week term.
With a total tuition of less than $23,000—and reduced tuition available for military students—Saint Leo University is one of the most affordable on SuperScholar.org's "Smart Choice" list.
Saint Leo is regionally accredited by the Southern Association of Colleges and Schools Commission on Colleges (SACSCOC). The Donald R. Tapia School of Business is accredited by the International Assembly for Collegiate Business Education (IACBE), a professional accreditor for business programs worldwide.
In 2011, the University opened a brand new $12 million state-of-the-art facility to house the Donald R. Tapia School of Business. The school is now named for the project's biggest donor, an Arizona businessman who received his online degree in business administration (2005) and online MBA (2007) from Saint Leo University.
About Saint Leo University
Saint Leo ranks as one of the top universities in the South, according to U.S. News & World Report's "America's Best Colleges" list. Saint Leo's traditional liberal arts campus, located 30 miles north of Tampa, educates nearly 2,000 students. Total enrollment across its campus, regional education centers, and online programs exceeds 15,000. Among the oldest Catholic universities in Florida, Saint Leo is one of the nation's 10 leading providers of higher education to the U.S. military, and is a nationally recognized leader in online education.
###