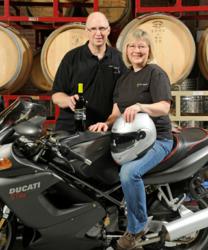 We make food-friendly wines from many varietals you've never heard about.
Galt, CA (PRWEB) February 06, 2012
When you think wine pairing, food comes to mind. But WEmarketwine discovered three up-and-coming wineries that started with the classic pairing of husband and wife. It's the stuff that Valentine's Day romance stories are made from.
Take Urban Legend Cellars in Oakland. They have a wonderful treat that can't be found at most other California wineries - an eclectic mix of lesser-known varietals that makes your mouth water mixed with a lifelong romance story. These self-proclaimed serial entrepreneurs created Urban Legend Cellars because they wanted to have something that they could do together as partners in life and business. Steve and Marilee Shaffer abandoned 3-hour-a-day commutes and the world of high-tech start-ups to open their own winery in Oakland's Ironworks district, near historic Jack London Square.
The couple met at a frat party during the first week of their freshman year at the University of Illinois, and have been an item ever since. In their three decades together, they've always shared a passion for making things go – cars, boats, their present pair of Ducati motorcycles, and numerous business ventures.
Marilee and Steve's careers (she as a microbiologist, he as an electronics engineer) have seen multiple iterations, and they've each been part of a variety of start-ups, from small mom-and-pop businesses to big venture-capital deals. But this chapter of their lives as serial entrepreneurs would be different – it was going to be their last fling.
"We decided that running a winery together was something that we could continue to do throughout our lives," Steve says. "And we recognized a niche for a California winery that could produce very food-friendly wines from out-of-the-ordinary grape varietals."
That was the "what to do" part. When it came to where to do it, the Shaffer's go-fast genes kicked into overdrive. "As much as the life of a country winemaker would be peaceful, quiet and bucolic, it also would be boring," Marilee says. "We really love cities. We love the energy and vibrancy of Oakland, and it's right in the middle of one of the most amazing food scenes in the country. What better place to make food-friendly wines?"
In 2009, the Shaffers launched Urban Legend Cellars, making wines that are well-balanced, with firm acids, round tannins and a clarity that truly speaks with the voice of each particular grape as well as where it was grown. Of course, nobody grows grapes in downtown Oakland. But, no vineyard, no problem.
By not being bound to a single estate or terroir, the Shaffers aren't locked-in to the same handful of varietals year after year. Instead, they source grapes that have traditionally gone well with great food – Nebbiolo, Tempranillo, Dolcetto, and Barbera, to name a few – and lesser-known varietals such as Petite Verdot. Their fruit frequently comes from wine-growing regions that are off the beaten wine road, such as Clarksburg, Amador County, and Lake County. And their wines are proving to be a hit among urban wine lovers and the wine establishment, as evidenced by Urban Legend's three gold medals in the 2012 San Francisco Chronicle Wine Competition.
In addition to their varietal wines, the Shaffers give props to their urban neighborhood, and surrounding ones, with blends that reflect the distinctive personalities of different parts of Oakland. So far, they've honored the Ironworks, Uptown, and West Oakland districts, and a Piedmont blend is being readied for release this fall.
Scott Klann had no idea that he would become one of the leading winemakers in Calaveras County. And when he met his wife Melanie, she had no idea that she'd become one of the area's most talked-about chefs. But they knew in an instant that they had each stumbled onto the love of their life without knowing that the future would bring them a winery of their own named Newsome Harlow.
It was harvest time, 1992. Scott had returned to his Gold-Rush hometown of Murphys, California after a less-than-stellar experience in Southern Cal as an ad guy and rock-band member. He had just landed a job as a cellar rat in a local winery and, on a rare evening off, went to a coffee house in Sonora. There he met "a girl with the most magical smile in the world." It was Melly. Who, it turned out, was just about to take a job at a coffee shop in…guess where… Murphys. They became inseparable. In two years, they were married. Scott was on his way to becoming an assistant winemaker, and Melly was honing her culinary skills.
Fast-forward to 2000. Scott, by now an accomplished winemaker, releases Newsome-Harlow's first 140-case vintage of a Meritage-style blend made from locally grown fruit. While Scott made wine, Melanie made a name for herself in local restaurants and with a catering business all of her own.
Over the years, Newsome-Harlow has become renowned for its big, bold Zinfandels, and for its curiously named red blends, Train Wreck and The Deviant, all made with Sierra Foothills fruit. And in 2011, the Klanns were able to intertwine their vocational passions as closely as their hearts with the opening of a downtown Murphy's restaurant, adjacent to their tasting room, called The Kitchen at Newsome-Harlow.
A chance meeting at a local wine bar followed by a whirlwind courtship has led this couple on the adventure of a lifetime. Sheldon Winery, located in Santa Rosa and the famed Russian River area is one that should be on the list for micro-wineries to visit.
Their story is an unlikely tale. She was a budding geologist, slumming as a private-jet flight attendant. and he was a vino barista in Carmel, California. They laughed and talked over bubbles and Chateau Neuf du Pape about winemaking and world travel, and about being raised by wild packs of hippies.
Five weeks passed quickly, and Tobe and Dylan Sheldon were engaged. They sold what little they owned and headed off to live their dream of globe-trotting and winemaking. In 2003, a year later, they were back in California. And with just $60 and a pile of credit-card debt to their name, they did what all love-struck kids do. They opened a winery.
The Sheldons borrowed a basket press and foot-stomped their way to their first 420-case vintage. Nine years later, Sheldon Winery produces a surprisingly broad range of varietals – Chardonnay, Pinot Noir, Grenache, Graciano, Petite Sirah, Cabernet Sauvignon, and Viognier – given their tiny scale. The Sheldons make a point of purchasing their grapes from growers who share their smallness of scale, and who practice good stewardship of the land. "We've banded together with families that have their own small vineyards into which they pour their hearts and soul," says Tobe, "I think you can taste that passion in our wines."
If you're looking to find a new love, go visit one of these amazing small family wineries where you can meet and chat with owner/winemaker.
Urban Legend Cellars: 621 4th Street, Oakland, CA 94607. 510-545-4356 Tasting-room hours: 1-6pm Friday-Sunday http://www.ulcellars.com
Newsome-Harlow Winery: 403 Main St., Murphys, CA 95247. 209-728-9817 Tasting-room hours: Noon-5pm Monday-Thursday; 11am-5:30pm Friday-Sunday. Kitchen open daily (except Wednesday): Lunch 11:30am-3pm; Dinner 5pm-9pm; Appetizers and Aperitifs 3pm-5pm http://www.nhvino.com
Sheldon Winery: 1301 Cleveland Ave., Santa Rosa, CA 95401. 707-865-6755. Tasting-room hours: Thursday 4-8pm; Fri-Sunday Noon-6pm http://www.sheldonwines.com
About WEmarketwine
WEmarketwine brings effective "big brand" startegic business planning, marketing, public relations, and graphic design services into the world of family wineries of all sizes.
###