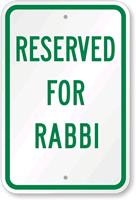 "Places like synagogues or churches are sancutaries, and people should not be troubling themselves with parking issues." Rivka Fogel, Writing Consultant on MyParkingSign.com
Brooklyn, NY (PRWEB) February 07, 2012
MyParkingSign.com has released new synagogue parking signs to organize parking areas for Jewish temples. Every place of worship needs to be managed carefully.
The need for specialized items for synagogues is greater than ever. According to JewishFederations.org, there are approximately 3,727 synagogues in the United States. "I grew up in a religious area in New Jersey, and synagogues are a big part of life," said Rivka Fogel, Writing Consultant for MyParkingSign. "There are always events going on, so I think having messages that organize synagogue parking areas will make all of the difference. Places like synagogues or churches are sancutaries, and people should not be troubling themselves with parking issues when there are more important matters at hand." Synagogue Parking Signs are great items for reserving spaces for temple staff, visitors, and the Rabbi.
Customers will have no shortage of signs to choose from. Standard messages read "Synagogue Parking Only" or"Church and Synagogue Parking Only." More specific options are geared towards Rabbis, Assistant Rabbis, the Cantor, and Hebrew School faculty. However, if buyers can't find the exact sign they want, they can design the sign of their choice. Personalized templates allow customers to easily add in text, customize it, or upload artwork easily.
Other options include other types of parking signs. Choices range from 15 Minute Parking Signs to Reserved for Office Manager Signs. The signs on MyParkingSign are expertly made. They are composed from rigid, rust-free aluminum and printed with 3M reflective ink. Since these signs resist chemicals, UV rays, water, and abrasion, they will last for as long as 15 years.
Choose synagogue parking signs to properly manage these special places. For more information, visit http://www.myparkingsign.com/mps/synagogue-signs.aspx.
About MyParkingSign
MyParkingSign is the largest online distributor of parking and traffic signs. Find over 3,000 different parking signs in stock as well as labels and accessories. Customers can create their own signs using convenient customization wizards.
About SmartSign
SmartSign is one of America's fastest growing e-commerce companies and parent of http://www.MySafetySign.com, http://www.MyParkingSign.com, as well as over 50 other sites.
Traditionally, signs with the right message have been hard-to-find, hard-to-design and hard-to-order. By positioning "Signs as Solutions", SmartSign has taken an entirely different approach. Through highly targeted, yet content-rich and authoritative sites, the company provides specific solutions to specific problems – such as keeping your Parking Lot safe and manageable. "We take the agony out of finding and ordering your perfect sign" – Blair Brewster, SmartSign founder. Couple this with fast and free shipping, 3M warrantied signs that outlast fast-fading ink jet signs from competitors, the web's largest range of designs and a best price guarantee, it is easy to see why SmartSign has grown so quickly.
# # #