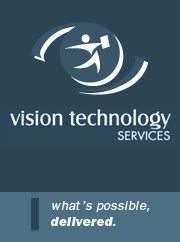 BALTIMORE, Md. (PRWEB) February 07, 2012
Vision Technology Services, the premier provider in Project Management Services and IT Jobs in Maryland, finished 2011 with local and regional accolades that leaves a sense of optimism for the dawning year.
In early December, Vision was recognized by the Baltimore Sun on their list of Baltimore's Top Workplaces. The evaluation for the Top Workplaces program was based upon feedback from an employee survey including 23 questions covering the topics of direction (where the company is headed), execution ( how the company is getting there), career (opportunities for growth), management (who listen, inspire confidence, and help their employees), pay/benefits (fair compensation) and engagement (retention, motivation, and referral).
In addition, Vision was honored by the Baltimore Business Journal as one of the fastest growing companies in Baltimore. Based off of revenue growth from the previous year, the Hunt Valley firm was ranked 20 of the 50 companies on the BBJ list. This was not the first the Business Journal recognized Vision Technology services, ranking it as one of the top IT Companies in Baltimore.
With headquarters in Hunt Valley, MD and a recently opened Bethesda location, Vision looks to continue its growth as it serves the Baltimore-DC Metro area workforce find the best IT Talent and available positions.
About Vision Technology:
Vision Technology Services has emerged as a leading provider of IT talent and project management services to companies throughout the mid-Atlantic region and selected markets across the country.
Striving to become one of the biggest names in the IT hiring and staff augmentation business, Vision Technology Services is committed to present only the most appropriate candidates to hiring managers, and to support each Vision consultant find competitive salaries, benefits, and performance incentives, plus on-going project management and IT training.
As a result, ninety-six percent of Vision Tech consultants complete their project or are hired full-time by our client.
###