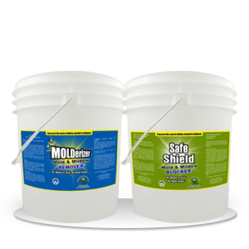 With it's great success with our private clients, now we are releasing a complimentary sample of the Molderizer kit and mold remediation advice guide as well, to help new customers.
Fort Lauderdale, Florida (PRWEB) February 06, 2012
Finally, after negotiations and renewing agreements the creators of Molderizer and Safe Shield are releasing their flag ship black mold products to the public. The Molderizer kit works on cleaning black mold and destroying it's spores on any type of surfaces.
Mold contractors would use the mold cleaners to remove mold on furniture, wood, drywall and other surfaces during a mold remediation project. The unique non-toxic formula would work without the need of heavy scrubbing. This formulation would subside costs dramatically for mold remediation contractors as they didn't need to sand down building materials or throw away lightly damaged moldy items.
The creator of Molderizer and Safe Shield Markus Skupeika stated, "After closely working with the mold industry and industrial hygienist's, we found many mold professionals were working extremely hard to remove mold spores. Not only that, their was concern of future outbreaks. Our formula department had technologies which could help these professionals. After diligent testing, Molderizer and Safe Shield was developed to help mold professionals subside a mold project cost and be able to complete a mold remediation without any future outbreaks."
Molderizer.com has created a complimentary sample available to mold sufferers to get rid of any mold problem as well as advice on procedures mold professionals will want to follow to get rid of black mold. The guides and complimentary sample are included in a Molderizer kit you can get access to at: http://www.molderizer.com/moldkit
Editors Note: A complimentary sample of the Molderizer kit is available for a limited time at: http://www.molderizer.com
# # #