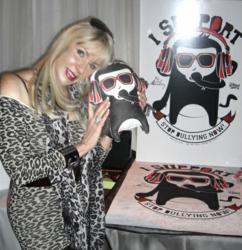 It's time to bring attention to the epidemic of bullying by making our voices heard
Hollywood, California (PRWEB) February 03, 2012
Christine Heathman, Master Aesthetician, CEO and Founder of GlyMed Plus and the GlyMed Plus Institute of Skin Science™ releases the following statement via Raffles Entertainment regarding the anti-bullying campaign "Hear No Evil, See No Evil, Speak No Evil" and the anti-bullying mascot Miles the Monkey:
The passion behind my commitment to support the anti-bullying campaign "Hear No Evil, See No Evil, Speak No Evil" stem from my own raw bullying experiences that still are a vivid snap shot in my mind. As a child and teen, I experienced bullying from family members and school mates because I was a thin girl, plus I had severe acne break-outs. The bullying was unrelenting & soul destroying. However, I refused to allow the taunting and physical violence I endured by the hands of these bullies to define who I was then, and who I am today.
When I started my skin care company GlyMed Plus 20 years ago, my commitment to help children and teens with horrible acne was one of the first and foremost projects that I had to accomplish. I did this so children would not endure bullying because of a bad skin condition. I still continue on this mission, and I am pleased to join forces with Artist for Global Unity in support of "Hear No Evil, See No Evil, Speak No Evil." It's time to bring attention to the epidemic of bullying by making our voices heard.One way we can make a difference is by reaching out to our law enforcement and law makers for new laws and consequences of these bullying assaults.
It does not matter to a bully if you are pretty, skinny, overweight, black, white, brown, yellow, gay, straight, family, stranger! Bullies have an agenda! Please join me with GlyMed Plus, Artist for Global Unity, and Miles The Monkey to put an end to bullying.
We all can make it happen.
About Christine Heathman:
Christine Heathman, CEO and Founder of GlyMed Plus/Advanced Aesthetics is the innovator behind GlyMed Plus Purely Professional products which are used in spas & medical clinics all over the world. Christine is skin care advisor to many Hollywood celebrities who use her fantastic, high end, professional only products. Christine has appeared as a guest expert on The Doctors and on Lifetime TV Channel's The Balancing Act. GlyMed Plus/Advanced Aesthetics offers a complete range of professional only products, combining technologically advanced ingredients with certified organic botanicals to produce amazing results.To find out more about Christine Heathman and her skin science message, please visit http://www.christineheathman.com.
About The Stop Bullying Now Campaign:
The STOP BULLYING NOW Campaign entitled "Hear No Evil, See No Evil, Speak No Evil" by Artist for Global Unity is an initiative that will reach parents and children, while providing tools needed to successfully cope with bullying.
Miles the Monkey, the official mascot of the campaign, will be traveling across the globe with a message of acceptance, tolerance and will encourage those to take a stand against bullying.
Artist for Global Unity is an organization that supports various causes around the globe. Spear-headed by celebrity consultant to the stars Raffles van Exel, this effort is in coordination with celebrities, corporations, and skin care/beauty colleagues from across the world. Participants include Christine Heathman, CEO/Founder of GlyMed Plus, Soul/Funk music icon Chaka Khan, movie and television star Quinton Aaron, CEO/Founder of GBK Productions Gavin Keilly, CEO/Founder of Lamas Beauty Peter Lamas, pop singer/songwriter Tyler Wade, CEO/Founder of Raffles Entertainment Raffles van Exel, Marion P Candles, Denali Ink, I AM RUTH! Foundation, AmVic Entertainment and Baby Girl Entertainment, Paradox Entertainment, IDP Entertainment Group, and Photographer Christian Rios.
Source: Raffles Entertainment
###