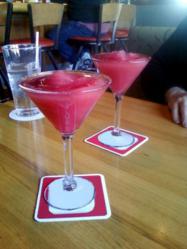 A Refreshing Way to Beat the Heat!
St. Peters, Missouri (PRWEB) February 05, 2012
Laszlo Corporation perfected their wine slushie formulation the summer of 2006, and has trial tested their product at charity events and trade shows. The public demand has resulted in retail customers from; Theme Parks, Restaurants, Sports Bars, Package Liquor, Wineries, and Stadiums. Public interest has grown and out of state presentations are being scheduled.
Les Suhayda, was asked what attracts the public to his product and his reply is, "Some people are looking for a special summer drink, one that is refreshing with an alcohol content equal to beer. The public discovered our Menrathwine Slushee and it meets all of the parameters of flavor, cold beverage, and not over powering." Customers of Laszlo Corporation reported a 25% increase in sales during the summer 2011 Midwest heat wave, with Menrathwine Slushee out selling beer.
Laszlo Corporation is opening home use for their product and the reaction is favorable. People holding BBQ, Birthdays, Anniversary, Wedding Showers, are asking for Menrathwine Slushees, and 2012 will be the year for serving the market
For additional information on Menrathwine Slushee, contact Les Suhayda or visit our website, a small business on a fast track.
###