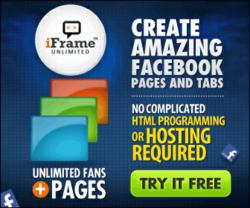 Rancho Mirage, CA (PRWEB) February 07, 2012
Businesses of all sizes can now increase Facebook user engagement with the immediate availability of iFrame Unlimited (IFU), a new Facebook app for building custom page tabs that offers organizations unprecedented affordability, features and simplicity.
While brands are increasingly turning to apps that can enhance Facebook user engagement – iFrame page tab creation apps represent the fastest growing social app category within Facebook – most existing tools either offer limited features and functionality, require a complicated multiple-step process to set up, or are priced beyond what organizations can afford.
iFrame Unlimited is a turnkey solution that ensures businesses of all sizes can create and host content-rich tabs for their Facebook pages at a price point well below that of comparable offerings. iFrame Unlimited differentiates itself from current market offering by delivering several key benefits:

Simple, Quick Installation – iFrame Unlimited can be installed and used with just a few, simple quick steps and requires no programming or hosting, a stark contrast to current Facebook tab apps that require a lengthy, complicated, multi-step process.
Unlimited Fans and Pages – With iFrame Unlimited, there is no limit or charge based on the number of fans who like a brands page, or number of pages that can be managed from a single subscription.
Disruptive Price Point – While existing custom tab apps with premium features charge as much as $30 per month, iFrame Unlimited is priced reasonably 299 Facebook credits or less than $30 per year, making it a affordable for businesses of all sizes.
Unlimited Bandwidth – iFrame Unlimited does not restrict brands to low storage limits and hefty charges for additional bandwidth; instead providing 250 MB of file storage for content and images.
Rich, Robust Feature Set – In the past, brands seeking affordable custom tab apps sacrificed on features. iFrame Unlimited offers the best of both worlds with customizable page content (ideal for promotions and contests), themed templates, and a fully WYSIWYG Visual Editor for authoring content and adding pictures.
App Can Be White-Labeled – Marketing, advertising and public relations agencies can enhance their service offering by white-labeling iFrame Unlimited to their client base.
Another unique differentiator of iFrame Unlimited is an Affiliate Referral Program that rewards people for referring others to subscribe to iFrame Unlimited. The affiliate program offers 33% commission on all referred sales, and a 10% override on sales from other affiliates recruited. For additional information on the Referral Program, visit here.
Providing brands with a simple and affordable way to automate the process of creating and hosting content-rich iframe tabs is highly beneficial given the intensive requirements of Facebook's native developer interface, and will proven even more critical in the near future when Facebook will deprecate its page development language FBML – which will require all page tabs to be in iframe format.
About iFrame Unlimited
The iFrame Unlimited app was developed by eWORDofMOUTH Inc., a leading provider of consumer lead generation and social marketing solutions that enable enterprises to rapidly grow traffic, revenues, customer databases; and improve customer retention and loyalty. Powered by its proprietary customer referral and rewards technology, eWORDofMOUTH's integrated 360 degree digital marketing system allows enterprises to leverage email, mobile and social media channels to positively engage and incentivize customers to refer friends and family members to their business. Whether a business operates online or through bricks and mortar stores, has one location or one thousand, eWORDofMOUTH's fully integrated solution is ideally suited for consumer-facing enterprises seeking the technology, service and real-time metrics needed to execute an online marketing strategy with exponentially positive results. Visit iFrame Unlimited at http://www.iframeunlimited.com and eWORDofMOUTH at http://www.ewordofmouth.com.
###