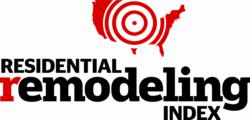 "We expect to see growth in the rate of remodeling and replacement activity in each quarter of 2012," said Jonathan Smoke, the executive director of HWMI.
Washington, D.C. (PRWEB) February 07, 2012
The level of remodeling and replacement project activity nationally declined in the fourth quarter of 2011, according to the latest release of the Residential Remodeling Index (RRI) by Hanley Wood. The seasonally adjusted third quarter national composite of the RRI registered a score of 79.33, which was a decline of 0.3 percent over the revised third quarter result of 79.56. The quarterly decline was in line with the October forecast.
The rate of remodeling and project activity fell 4 percent year-over-year, reaching a new bottom in activity for the industry. Estimated remodeling and replacement projects for 2011 came in at just over 10 million, or a decline of 4.6 percent over the 10.5 million estimated projects completed in 2010. The 2010 volume of projects had shown a slight recovery of 1.7% over 2009, due in part to energy-related tax credits as well as a bump in home sales supported by tax credits that expired in 2010.
Remodeling and replacement activity suffered a decline in 2011 due to the move-forward of activity into 2010 as a result of the temporary tax credits as well as low consumer confidence in 2011 and weak housing conditions. The rate of activity in the fourth quarter represented a 21% decline from the peak of the market in early 2007.
Hanley Wood Market Intelligence's January forecast is calling for growth ahead in 2012.
"We expect to see growth in the rate of remodeling and replacement activity in each quarter of 2012," said Jonathan Smoke, the executive director of Hanley Wood Market Intelligence. "This marks the beginning of what we believe will be a long and sustainable recovery in remodeling and replacement projects and related spending."
"Remodeling seems poised and overdue for increases in activity because of Boomers moving closer to retirement, necessary and overdue home improvement projects on aging housing stock, and improving levels of healthy home sales. With improving consumer confidence as a result of gradually improving housing and employment conditions, we expect to see over 260,000 more remodeling and replacement projects nationally in 2012, which represents almost $2.6 billion in additional spending," Smoke added.
According to the new RRI data, the number of markets expected to improve in 2012 far outnumber the number of markets expected to decline. 304 of 366 Metropolitan Statistical Areas are expected to see more remodeling and replacement projects in 2012 than in 2011. The average forecasted increase in those improving markets is 3.6%.
"With remodeling starting to recover, the economic activity the industry adds in 2012 will be a boost to local economies," Smoke said. "As a frame of reference, the best 5 remodeling markets in our most recent rankings will see over 30,000 additional projects across those markets, contributing over $300 million more to those local economies. With improving levels of activity, housing will start contributing to economic growth again, which then reinforces the future demand for remodeling."
About the Residential Remodeling Index
The RRI is a quarterly measure of the level of remodeling activity in 366 metropolitan statistical areas (MSA) in the U.S., with the national composite reflecting the national level of activity. "Activity" includes home improvement and replacement projects, but does not include maintenance or projects of less than $500. The seasonally adjusted index shows the relative level of activity in the geography specified (MSA or national composite) compared to 2007 (the baseline year). A number above 100 indicates a level of remodeling activity higher than the level of activity at the beginning of 2007, which was the peak of remodeling activity in the prior decade.
The index is produced through a statistical model that leverages detailed data on remodeling activity, including household level remodeling permits, and consumer reported remodeling and replacement projects. Quarterly historical results for the national composite and for each of the 366 Metropolitan Statistical Areas in the U.S. are available back to 2004. In additional, Hanley Wood Market Intelligence also produces annual estimates of project counts and expenditures as well as forecasts of the quarterly RRI and annual projects and expenditures.
About Hanley Wood Market Intelligence
Hanley Wood Market Intelligence is the housing industry's leading provider of rich data and analytical services on residential real estate development and new-home construction. Through their proprietary Housing Intelligence database, Hanley Wood Market Intelligence delivers housing insights into more than 800 MSAs and 2300+ counties. http://www.HousingIntelligence.com
Hanley Wood, LLC, is the premier media and information company serving the housing and commercial design and construction industries. Through its operating platforms, the company produces award-winning magazines and Web sites, marquee trade shows and events, market intelligence data and custom marketing solutions. The company also is North America's leading publisher of home plans. http://www.hanleywood.com
###