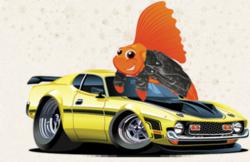 We all deal with heavy stuff from time to time, but there are healthier ways to handle that stuff.
Dallas, Texas (PRWEB) February 03, 2012
RoadFish.com's men's lifestyle and finance magazine today urged Texas Ranger outfielder and recovering drug addict Josh Hamilton to improve his mental health before he loses his financial wealth, and to avoid the temptation of drugs and alcohol under any circumstance. RoadFish.com's encouragement comes after Hamilton's relapse with alcohol earlier this week. Gerry Fraley of the Dallas Morning News reported that Hamilton was seen drinking at Sherlock's Pub in Dallas on Monday night, and that Rangers teammate Ian Kinsler showed up at the bar in what is believed to be an attempt to talk Hamilton into leaving.
Hamilton admitted to Monday's alcohol-related relapse and stated in a press conference earlier today, "I'm sorry this is under these circumstances. My life in general is based on making the right choices, everything as far as my recovery, as far as my baseball goes, it's all based around my relationship with the Lord. And I look at it like this, you guys all know how hard I play on the field and give it everything I absolutely I have. When I don't do that off the field, I leave myself open for a weak moment and I had a weak moment on Monday night in Dallas."
RoadFish.com's editor is quoted as saying, "I have mad respect for people that are masters of their craft. It takes a lot of dedication and hard work to become good at what you do. The fact that Hamilton received the Most Valuable Player award during the American League Championship Series says a lot about his love of the game. We all deal with heavy stuff from time to time, but there are healthier ways to handle that stuff. Getting your noggin straight is crucial. You control your mind and body."
This is Hamilton's second alcohol-related relapse in three years, the first taking place in 2009 in Arizona. Following that incident, Hamilton passed a drug test and participated in a counseling program. Earlier in his career, during his time with Tampa Bay, Hamilton was suspended for three years for alcohol and drug abuse resulting in him missing the 2003-2005 playing seasons.
RoadFish.com urges Hamilton to "stay strong," and insists that improving on mental health and purging stress from oneself is the key to overall health and stability.
Josh Hamilton is a four-time All-Star and won the American League Most Valuable Player in 2010. He can become a free agent after this season.
About RoadFish.com
RoadFish.com is an online men's lifestyle and finance magazine targeted toward men in their 30's and 40's that have already attained a moderate level of success in life, and are striving toward more. It goes over current events of interest to this group, such things as exciting adventures, staying healthy consumer interests, dating tips, as well as ways to make more and save more money. It is a publication owned by Purpose Inc.
###