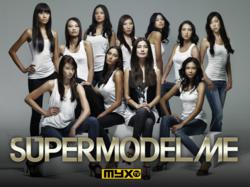 "We are pleased to add SUPERMODELME to MYX TV's programming line-up as our first competition reality series."
Redwood City, CA (PRWEB) February 03, 2012
MYX TV, the only Asian American entertainment network in the United States, proudly announces the upcoming premiere of SUPERMODELME, a competition reality show featuring ten aspiring female models of Asian heritage, fighting for international model superstardom. The show premieres on February 15th and airs Wednesdays at 10:30pm.
Shot in Singapore, SUPERMODELME features women of Sri Lankan, Malaysian, Chinese, Indian, and Korean descent, hailing from Australia, the United States, Asia, and Europe.
"SUPERMODELME is Asia's first and only multi-platform, reality-based entertainment program breaking ground not only in the action/reality genre, but also in the realm of new media," said Karen Seah, Founder and Chief Executive Officer of Refinery Media. "The show will be featured across TV, Internet and on Mobile. Through SUPERMODELME, Refinery Media aims to showcase Asia's rising talent in production, photography, fashion and music for the program across a series of platforms. Our goal is to position SUPERMODELME as an arena to showcase our Asian capabilities yet still appeal to a global audience with the input from international guests and judges"
The series goes west through MYX TV and reveals an exciting look into the dynamic and trendsetting Asian fashion industry.
"We are pleased to add SUPERMODELME to MYX TV's programming line-up as our first competition reality series," said Miguel Santos, Associate General Manager for MYX TV. "We are always striving to give our viewers exciting new content not seen on other American networks and debuting this exciting new franchise in the United States is right in line with our programming goals."
Meet Asia's fashion celebrities and the models as they take you to scenic locations, through drama intensive challenges, and to the thrilling and glamorous but unforgiving demands of fashion. SUPERMODELME airs on the network that is redefining Asian American entertainment, MYX TV.
ABOUT MYX TV®:
MYX TV is the premier Asian American entertainment and lifestyle cable network in the United States. Dedicated to airing the best in entertainment, MYX TV's programming is a unique combination of original and syndicated shows, including magazine talk shows, interactive music video countdowns, independent film and Asian cinema, and animation, airing 24/7 in English. Broadcast in over 7 million households across the country it provides a platform for Asian Americans on mainstream television and is also represented on its official website by a community of bloggers from coast-to-coast. To find MYX TV in your area and for exclusive content online, visit http://www.myx.tv.
MEDIA ASSET:
TV Commercial link: http://bit.ly/zayYky
###