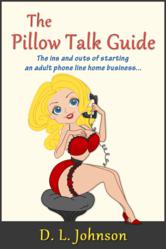 Hottest women home business.
Vancouver, WA (PRWEB) February 05, 2012
Author, D.L. Johnson, spent a year of researching and interviewing women in this industry, it was apparent that a how-to-guide was needed. The Pillow Talk Guide was written for women who need an insight of what's involved in working in this type of industry.
It's a unique home business that's not for every one. The author felt it was necessary to help women understand the ins and outs of being an operator at home. The first couple sections are geared towards having the reader look at themselves, family and friends, done so by answering a few key questions about their personality and relationships. These sections aid in making the decision to go further, or to decide if it's not for them. The remaining sections explain what type of callers to expect, how to handle the calls, setting up a home office, taxes and support resources.
The Pillow Talk Guide eBook is available for Kindle readers (amazon.com), and for other reader formats it's available on Smashwords.com. The author's web site: http://www.thepillowtalkguide.com offers the eBook in PDF format.
###