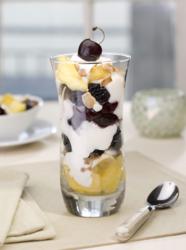 Eat the rainbow. Color is one of things that make foods good for you. When it comes to fruits and vegetables, fresh is best.
(PRWEB) February 03, 2012
Start your day off right with this heart- healthy morning breakfast recipe that also serves as a kid-friendly snack or light dessert. Summer- fresh plump cherries, blueberries or raspberries from Chile, available in markets now, star in this one cup layered parfait with low fat yogurt and topped with toasted almonds. February is American Heart month and experts recommend a diet that includes a rainbow mix of fruits and vegetables for optimal health. "Eat the rainbow," says Ellie Krieger, MS, RD. "One of the things that makes food so appealing and enticing is also what makes it good for you: color."
Heart disease is the #1 killer of women and small dietary changes plus increased activity can make a difference. For more information on minimizing the risk of heart disease by eating healthly, visit the American Heart Association For more fresh ideas, recipes and facts about Chilean Fresh Fruit, visit Chilean Fruit Online
Chilean Cherry Berry Parfait
Serves 4
INGREDIENTS
1 cup fresh sweet Chilean cherries
1 cup fresh Chilean raspberries or blueberries
1 cup chopped fresh or canned pineapple
1 cup low-fat vanilla or lemon yogurt
1 medium sliced banana
1/3 cup chopped dates
1/4 cup sliced, toasted almonds
INSTRUCTIONS
Set aside 4 whole Chilean cherries.
Remove the pits and slice the remaining
cherries in half. In tall or stemmed glasses,
layer the cherries, pineapple, raspberries,
yogurt, banana and dates. Sprinkle the
almonds on top and garnish with
a whole, sweet cherry.
NUTRIENTS PER SERVING
208 calories, 5g protein, 4g fat, 18% calories
from fat, 41g carbohydrate, 4mg cholesterol,
4g fiber, 39mg sodium
# # #