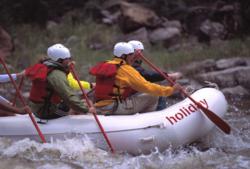 My trip with Holiday was the first whitewater rafting trip I had ever been on. The food was out of this world and they always had the instant gratification table to soothe your hunger right when you get off the boats while they prepare the meals.
Salt Lake City, Utah (PRWEB) February 07, 2012
Holiday River Expeditions located in Utah is announcing the addition of a few new white water rafting specialty trips this year. Among these are three brand new river rafting trips that are being added to their already long list of hiking, biking and rafting trips. These are completed on the Colorado River as well as rivers in Utah and Idaho.
These amazing white water rafting trips take vacationers on fun but somewhat wild rides through some of America's most beautiful Western landscapes. Canyonlands National Park and Dinosaur National Monument are among the favorites.
"Though we already offer some very exciting trips, we listened to the suggestions of past adventure seekers and put together three new exhilarating trips that are sure to be winners," said John Wood, Holiday River Expeditions owner.
The first of the new trips is called, "The Birding Trip" with Bill Fennimore, Jr. Birding expert, and Bill Fennimore, Jr. holds the title of manager of the Wild Bird Center in Layton, Utah. He is also a field birder who has been birding in exotic locations around the world. This is a 5-day birding trip on the Yampa River as it flows through Dinosaur National Monument. This area is well known for sightings of the Prairie Falcon, Rock Wren, Gray Flycatcher, and White-throated Swift.
The Yoga & Writing Workshop is also guaranteed to be a huge hit. This is a 5-day trip down the San Juan River with Yoga expert & professional writer, Jessica Frogley. The highlights of this trip are the extraordinary sand waves this river is known for and plenty of time to relax and unwind in one of nature's most amazing settings.
The Spiritual River Retreat Rafting Trip with Jeanette Dames is a 6-day spiritual retreat where rafters will reconnect to nature and their inner selves. This trip takes place on the Main Salmon River in Idaho and includes exercises designed to help you explore the limiting beliefs which have been holding you back from greater success in your life. Jeannette Dames is a certified angel therapist and medium.
Four popular Holiday River Expedition trips,The Naturalists Trips during the Full moon cycle, The Extended Hiking trip in Canyonlands National Park, and the Kayak Workshop & the Women's Retreats will be held on new dates this year. That information can be found on the Holiday River Expeditions website.
About Holiday River Expeditions
For over 46 years, Holiday River Expeditions has offered white water rafting trips, and hiking and biking trips on the Colorado and Green Rivers. These thrilling trips offer breathtaking scenery on the ride of your life through the Grand Canyon, Westwater Canyon, and Cataract Canyon among others. They also offer family rafting trips in Utah and Idaho.
###
For more information, visit their website.