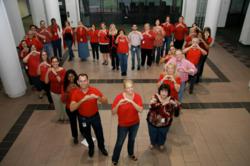 Boca Raton, FL (PRWEB) February 04, 2012
Bluegreen Corporation, a leading provider of colorful places to play participated in National Wear Red Day in support of the American Heart Association and Go Red for Women on Friday, February 3, 2012.
Bluegreen encouraged associates to wear red, offered a heart-conscious breakfast of fruit and protein and held a mini-auction, raising over $800 in donations.
Stephen Wilke, Director, Human Resource Development and Corporate Communications for Bluegreen explained that the company has a connection to the American Heart Association on several different levels.
"As part of Bluegreen Wellness programs and initiatives, the American Heart Association sponsors the Start! Walking program," said Wilke. "In connection with the Start! Program, Bluegreen has a current 'walk-around-the-world' and just left Sydney, Australia and was heading for the Great Wall of China. "
"In relation to our philanthropic activities, Bluegreen regularly participates in events like the National Go Red For Women campaign, the local Heart Walk and makes memorial gifts for co-workers and other loved ones impacted by cardiac disease," he said.
The American Heart Association has also come to address Bluegreen associates regarding their programs and services and to recruit volunteers. Bluegreen actively encourages volunteerism and allows 16 hours of paid time per year for associates to work at charitable organizations such as the American Heart Association.
"Our associates are passionate about supporting charities like the American Heart Association, which are dedicated to saving lives and improving health and well being," said Susan Saturday, Senior Vice President, Chief Human Resources Officer for Bluegreen. "The American Heart Association also makes it easy for companies like us to engage our associates in healthy activities via their website.
"It's an ideal partnership," she said.
ABOUT BLUEGREEN CORPORATION
Founded in 1966 and headquartered in Boca Raton, FL, Bluegreen Corporation (NYSE:BXG) is a leading timeshare sales, marketing and resort management company. Bluegreen Resorts manages, markets and sells the Bluegreen Vacation Club, a flexible, points-based, deeded vacation ownership plan with more than 160,000 owners, over 59 owned or managed resorts, and access to more than 4,000 resorts worldwide. Bluegreen also offers a portfolio of comprehensive, turnkey, fee-based service resort management, financial services, and sales and marketing on behalf of third parties. For more information, visit http://www.bluegreenonline.com. For more information, visit us online at http://www.bluegreencorp.com. See what Bluegreen owners are saying on Facebook or follow us on Twitter.
###