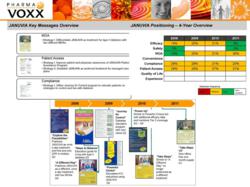 "The high level of interest generated by the CI Dashboard revealed that there is a strong need for these types of analytical tools."
Orange, CA (PRWEB) February 06, 2012
PharmaVoxx, a leading provider of competitive intelligence and business analytics for pharmaceutical marketing, today announced that analyzing competitor activity can now be done more efficiently with drug and disease-based market intelligence reports.
The new market intelligence reports are designed to save pharmaceutical companies time and resources by communicating competitive product analysis and pharmaceutical marketing trends across multiple functional areas in an easy-to-digest format. Based on data extracted from the PharmaVoxx proprietary, online database of drug and disease-related promotional materials, PharmaVoxx market intelligence reports provide a diverse range of valuable analysis.
"The high level of interest generated by the CI Dashboard revealed that there is a strong need for these types of analytical tools," says Dao Vo, General Manager at PharmaVoxx. "The type of information contained in the new suite of reports and analysis is what our customers have conveyed to us is most important in helping them to perform their job more efficiently. By integrating this new dimension of advanced analysis into our existing promotional CI service offering, we are furthering our commitment to being a full-service, strategic partner to our customers."
The reports are organized into four main categories:
Competitive Intelligence (CI) Dashboards
Reports analyze key messages of drugs in major disease areas. Areas of focus include marketing, clinical development, and patient access. CI teams use these reports to further investigate or act on patterns or issues the competitor analysis reveals.
Promotional Trends & Analysis
Reports provide a historic look at the promotional activity of a drug benchmarked against key competitors. Areas analyzed include promotional share-of-voice (SOV), product messaging focus, media mix, distribution channel usage, and target audience. Opportunities or holes in messaging are identified to leverage strategic marketing planning initiatives.
Messaging Strategy Reviews
Reports are delivered as a comprehensive review of the messaging strategy of a marketed drug(s). MSRs are designed to provide insight into competitor brand positioning and messaging claims over a period of time derived from an established baseline.
Custom Reports & Analysis
PharmaVoxx analysts answer specific CI questions and address various scenarios. Report types include case studies, pre-approval reviews, deep dives, and more.
In addition to helping companies reduce time analyzing and reviewing competitor activity, customers benefit from obtaining a deeper understanding of their competitor's messaging strategy and are able to apply what is learned to their own brand strategies. For example, the success of a new market entrant to a crowded market is largely contingent upon its ability to differentiate from existing competitors. The strategic market intelligence reports help to identify under/over-utilized marketing distribution channels so that new market entrants can improve the effectiveness of their marketing channel strategies. Companies launching new products can also gain insight into which strategies employed by previous new entrants worked and which ones didn't work.
In early 2010, PharmaVoxx created the first in its portfolio of reports, the CI Dashboard, designed to help customers identify the latest and most significant promotional tactics of key competitors.
About PharmaVoxx
PharmaVoxx delivers highly specific, summarized intelligence of pharmaceutical messaging and promotional strategies. More than an online library of marketing materials, PharmaVoxx gives marketing and competitive intelligence managers a full suite of solutions to track-and-analyze competitor promotional activities. For more information, visit http://www.pharmavoxx.com.
###