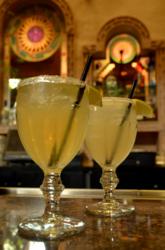 We are extremely grateful for this honor and being voted Best New Mexican restaurant in Albuquerque, New Mexico, said co-owner John Thomas
Albuquerque, New Mexico (PRWEB) February 03, 2012
El Pinto Restaurant in Albuquerque New Mexico was voted by the people of Albuquerque as the Best New Mexican Restaurant in Albuquerque according to the annual survey conducted by Albuquerque the Magazine.
"El Pinto has a 50-year tradition in making quality and fresh New Mexican cuisine," said John Thomas, co-owner of El Pinto Restaurant along with his twin brother Jim Thomas. "Our tradition was started by my grandmother, and her recipes continue to make hearts happy with flavorful green chile and outstanding New Mexican food to this day."
El Pinto celebrated winning the highly contested competition by giving the opportunity for everyone in Albuquerque to receive a free margarita or guacamole. "We had so many people contact us about the free margaritas for being voted Best New Mexican Restaurant in Albuquerque after the first time we did it, we had to do an encore event on February 1st," explained John Thomas
In all, over 400 people told El Pinto servers, "I voted you the best New Mexican restaurant," and received a margarita or fresh guacamole of their choice.
"We are extremely grateful for this honor and knew we had to tell the people of Albuquerque 'Thank You!'" said Jim Thomas.
###