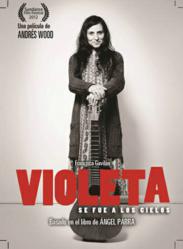 "Don't cry when the sun is gone, because the tears won't let you see the stars."
― Violeta Parra
Miami, Florida (PRWEB) February 05, 2012
Founded in 1978 by Robert Redford, The Sundance Film Festival is the world's largest showcase for independent film.
The movie "Violeta Went to Heaven" with original music by Uptempo's artists Miranda & Tobar was awarded with the World Cinema Dramatic Jury Prize.
Violeta Went to Heaven tells the story of the famed Chilean singer and folklorist Violeta Parra, tracing her evolution from impoverished child to international sensation and Chile's national hero, while capturing the swirling intensity of her inner contradictions, fallibilities, and passions.
This is not the first important film award by Miranda & Tobar whom have previously won with different films in Huelva (Spain), Flanders (Belgium) and Nantes (France).
Recently Uptempo finished the music for Univision's first documentary "Infiltrados" as well as commercials for Colgate, KFC and Pampers with music composed by Miranda & Tobar.
About Uptempo
Uptempo is an original music and audio post-production facility based in Miami, FL with services that include voice over talent, selection and booking support, pre-production, scheduling, ISDN, and dubbing services. Uptempo has a pool of musicians with backgrounds in motion picture, album recording, broadcast, and advertising
###.