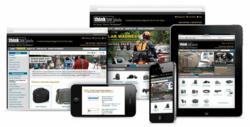 "We are able to create a mobile-friendly online buying experience for our extremely mobile customers without having incurred costs double or triple for maintaining redundant sites"
Santa Rosa, Calif. (PRWEB) February 08, 2012
Bay area companies Think Tank Photo and Blast Advanced Media partnered to create one of the first e-commerce websites with a design that actively adapts to create an optimal user experience on different devices (smart phones, tablets, or desktops). Think Tank Photo is an early adopter of a new responsive design technology that has seldom been used on e-commerce sites.
Responsive web design uses HTML5 to provide a customized user-friendly experience whether users are on desktops, tablets or smart phones. Building the site in this manner meant Think Tank wouldn't need to create multiple websites, each sized to fit a specific device. This saved the company the money and effort necessary to build and maintain multiple websites.
Blast captured the experience in a free case study entitled, "Online Sales Continue to Improve Through a Strategic Partnership & Responsive Design."
Think Tank Photo is the world's leading camera bag design company. It serves professional and amateur photographers. These customers frequently access the Internet via mobile devices. In fact, in the last year Think Tank's mobile device traffic increased more than 300%.
Think Tank's increase in mobile traffic is not surprising as mobile device Internet browsing continues to skyrocket. According to Gartner research, mobile devices will become the dominant way to browse the internet in 2013, if not even sooner.
Think Tank is excited to be one of the first e-commerce sites to utilize this technology, not only in their industry but in the online space altogether.
"Thanks to Blast's implementation we are able to create a mobile-friendly online buying experience for our extremely mobile customers without having incurred costs double or triple for maintaining redundant sites," said Larry Atil, Think Tank's Creative Director.
As a result of the new responsive layout and other optimization efforts, Think Tank Photo saw these results during the 2011 holiday shopping season:

Over a 188% increase in revenue from mobile users during Black Friday through Cyber Monday compared to 2010.
More than 96% increase in transactions from users on smart phones and tablets since implementation.
Mobile Pageviews increased 224% since implementation.
"Too many companies are building additional sites for mobile devices that increase their costs, create content maintenance nightmares, and unknowingly dilute search engine optimization efforts and cause user frustration," said Kayden Kelly, CEO of Blast Advanced Media. "We're happy to help Think Tank continue to be an innovator in their industry and to provide their customers with the optimal experience for whatever device they are on, while saving them money and headaches."
ABOUT THINK TANK PHOTO Think Tank Photo is a group of designers and professional photographers focused on studying how photographers work and developing inventive new carrying solutions that meet their needs. They are dedicated to using only the highest quality materials and design principles, and employing materials that are environmentally benign.
ABOUT BLAST ADVANCED MEDIA
Blast Advanced Media is a web analytics and online marketing company helping businesses customize their analytics solution to get the straightforward, actionable insights they need to succeed. From custom implementation by certified experts, to seasoned performance analysis and online marketing strategy, Blast Advanced Media helps optimize web analytics and provide strategic guidance to improve a client's entire business.
###