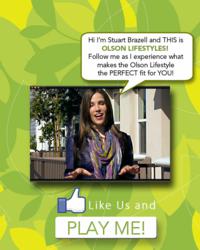 Covina, CA (PRWEB) February 05, 2012
Olson Homes, Southern California's leading developer of in-town living, announces two new online video series targeted towards the new Southern California homeowner and home buyer.
The Olson Lifestyles Web Video Series will be an insider's look into each of Olson's urban new home communities, offering potential home buyers and current homeowners a fun and entertaining look into what the communities and cities have to offer. Focusing on culture, dining, and interesting aspects of the surrounding cities, each episode also will provide an inside look into an Olson home, highlighting the modern and energy-saving features that make the homes great, as well as showcasing some fun design options.
Hosted by Stuart Brazell, host of "Go See This This Movie" on MSN.com, and frequent contributor on many major news and entertainment outlets, the series features an irreverent and fun style. Brazell will take viewers on a great journey, exploring what makes the "Olson Lifestyle" so great. The first episode, premiering February 3, will feature Citrus Walk and the downtown Covina lifestyle.
In addition to the Lifestyle Video Series, a fun and exciting look into Olson's communities, Olson offers a more in-depth series designed to answer specific questions about the home buying process. The Homebuyer Video Tip series features Olson Homes President Scott Laurie as he gives simple tips and advice to those in the home buying process or thinking of buying a home. Covering topics including "rent vs. buy," "why it's a good time to buy now," "first time homebuyer tips," and "buying new," and designed to provide easy-to-understand advice, the series can be found in the "Blog" section of the Olson Homes website.
"The Olson Company always has considered customer service one of the most important features of the home buying experience, and we have launched two video series in order to reach our customers online, where they are increasingly looking for information about all facets of their lives," said Scott Laurie, President of Olson Homes." Our tips series will offer simple, short tips and hints that are helpful to anyone, at any point in the home buying process, and our Lifestyle Video series offers easy to find details on our Olson communities, and are a great way to learn more about the community you are thinking of making your home."
Videos will be available on the many Olson Homes websites, http://www.olsonhomes.com, and on Olson's Facebook and YouTube pages, as an online library of home buying information and advice.
The Olson Company's numerous successful urban living developments across Southern California over the last 22 years reflect its commitment to today's homebuyer. The Olson Company has garnered prestigious Eliant Awards for homeowner satisfaction, including a recent overall win for Mosaic Walk, which was in first place from almost 900 nationwide home communities. The Olson Company believes in "livability," and implements a thoughtful and detail-oriented approach from concept through execution. As part of their unique approach to creating these communities, The Olson Company understands all that goes into buying a new home and provides ongoing tailored services to support the needs of its homeowners, including financial education and the exclusive Homeowner Champion Program.
About The Olson Company
Established in 1988, The Olson Company and the Olson Homes brand are nationally recognized for creating unique in-town neighborhoods in urban communities throughout California. Headquartered in Seal Beach, California, The Olson Company has successfully partnered with governmental agencies and private landowners to create innovative housing solutions designed to fulfill the lifestyle needs of today's buyer. http://www.olsonhomes.com.
###