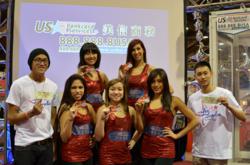 USBSI's booth boasted spirited dance performances that featured Jay the jaguar, the company's popular blue mascot
City of Industry, CA (PRWEB) February 06, 2012
US Bankcard Services, Inc. (USBSI) attended the 31st annual Asian American Expo at the Pomona Fairplex, held on January 14th and 15th and organized by CCYP. This is the seventh year running that USBSI has attended the Expo as an exhibitor; it alone occupied eight booths in hall 4, where it entertained members of the audience with family-friendly games and a chance to win cash and prizes.
This year, USBSI's booth was sponsored by Discover, JCB, and Elavon. Representatives from JCB International Credit Card Co., Ltd, including Linda A. Horwath, Vice President and ISO-Channel Manager, mingled with the Expo's attendees at USBSI's booth. Also present from JCB were Dan Skaling, Senior Vice President of Business Development, and Brandon Zhou from the Business Development division.
In terms of entertainment, USBSI's booth boasted spirited dance performances that featured Jay the jaguar, the company's popular blue mascot, as well as crowd-pleasing activities that gave the audience a chance to join in the fun. Every hour an introduction to USBSI was followed by a Q&A session that gave onlookers a coveted chance to enter the money booth and emerge with fistfuls of cash. In addition, the USBSI slot machine gave the Expo's attendees a chance to win a prize between performances. USBSI also provided a photo booth so audience members could take pictures with their prizes and loved ones to commemorate their attendance.
From the responses that USBSI has received from both JCB representatives and several Expo audience members, the event was a success and all had a great time. USBSI is pleased to have the opportunity to interact with the Asian American community of all ages at the annual event and anticipates repeating the success realized in 2012 and sharing it with the public again next yearat the 2013 Asian American Expo.
About US Bankcard Services, Inc.
US Bankcard Services, Inc. is a top rated MSP that offers competitive rates, incredible customer service support, and cutting edge technology in credit card processing service. USBSI offers a wide array of value-added services, including QuickDining.com (QD) restaurant e-commerce, gift card services, check guarantee, PCI –DSS compliance consultancy, 24-7 multilingual customer service and technical support. US Bankcard Services, Inc. is a registered MSP/ ISO of Elavon, Inc. Georgia
For more information about merchant bankcard services please visit us at usbsi.com or call us at: 1-888-525-8558.
###