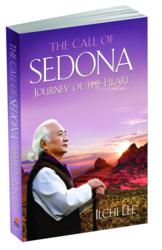 The Call of Sedona has touched several thousands and inspired the formation of over 300 reading groups and meditation circles nationwide.
Sedona, Arizona (PRWEB) February 04, 2012
The Call of Sedona: Journey of the Heart could be considered a love letter to the land. The author, Ilchi Lee, was inspired to write this semi-travel and meditation guidebook after receiving a series of messages whilst in meditation in the area. The book is now an international bestseller in Lee's native South Korea, Japan and the United States. As a result, Sedona and its neighboring towns are becoming more famous through the accolades they've received in the book.
Leaders of reading groups and meditation circles focused on The Call of Sedona have been inspired to share the book's meditations and messages through Book Talks & Demos in their local bookstores. To date, The Call of Sedona has touched several thousands and inspired the formation of over 300 reading groups and meditation circles nationwide.
In this engaging book, Ilchi Lee shares how Sedona is a unique place of amazing red rocks and striking sunsets with an ability to lift the spirit that draws millions of visitors each year. He describes how anyone can achieve enlightenment, purpose, and fulfillment by experiencing the true spirit of Sedona. The book also provides a range of advice on meditation and enlightened living that can benefit anyone, anywhere.
Lee believes Sedona has the power to support tremendous personal growth in each individual who comes to know the place and its value. As a gesture of support, thirty percent of Lee's proceeds from the sale of the book are going to support 3 local charities: Camp Soaring Eagle, Sedona Community Center and Yavapai Big Brothers Big Sisters. Currently, Lee is touring major Barnes & Nobles and other major independent bookstores for book signings. In Las Vegas, New York and New Jersey, crowds numbering nearly 300 came out to get their books signed.
The Book Talk & Demos will feature:
--An introduction to the book and its author
--An introduction to the breathing and meditation techniques described in the book
--An introduction to the philosophy of Eastern spiritual tradition
--The benefits of these techniques for the betterment of individuals and communities
Locations for area Book Talk & Demos:
Sedona Worm Books & Music
6645 Route 179 Suite C-1, Sedona on January 30th, 10:30 am
Bent River Bookstore
1010 North Main Street, Cottonwood on February 7th, 2:00 pm
Barnes & Noble Flagstaff
701 South Milton Road, Flagstaff on February 10th, 1:00 pm
About Ilchi Lee
Ilchi Lee is the author of over 30 books, including the bestselling Brain Wave Vibration and Healing Chakras, that are designed to help individuals unlock their potential. Ilchi Lee's books generally teach about spirituality, holistic health and the role individuals can play in the improvement of society as a whole.
About BEST Life Media
BEST Life Media is an independent publisher based in Sedona, Arizona that produces self-help, spirituality, and meditation books, CDs, DVDs, and other tools to support a lifestyle of personal growth and enrichment.
###