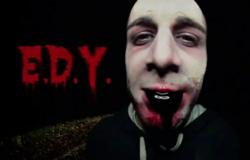 Miami, FL (PRWEB) February 04, 2012
French hip hop artist E.D.Y. recently released the official video for his single "Livin' Dead Hunger." Coast 2 Coast Video Distribution presents the project, which can now be seen on YouTube and at Coast 2 Coast Mixtapes. "Livin' Dead Hunger" is directed by Eric D for Meme Pas Mal Prod.
E.D.Y. takes his rap alias from his given first name, Edouard. He is from Paris, France, where he was born into a wealthy background. Given his history, E.D.Y.'s connection with rap music is anything but obvious. But he began traveling to the United States as a teenager, spending a lot of time in New York, where he discovered his love for a very different culture than the one he was raised in—that of hip hop music and values. After a number of trips, E.D.Y. found that his outlook had changed dramatically. He began to resent his environment, and naturally turned toward more and more to the music he had found. Thanks to G-Unit's "Beg for Mercy" album, E.D.Y.'s passion for the music was strengthened, though it was only the beginning.
E.D.Y.'s willingness to denounce the codes, rituals, and habits of the French bourgeoisie and express his life's vision and feelings sets him apart from every other artist. He now writes and raps and raps in the language that he loves, English. When he was 16, he met Kip, beatmaker and DJ, who became his close friend. He also met another beatmaker, Tim, and realizing they all shared the same passion and ideas, E.D.Y. and Kip&Tim began working together in 2007. It is this team that produced "Livin' Dead Hunger" and the rest of E.D.Y.'s first EP, entitled "My Introspection."
"Livin' Dead Hunger" is available to view at http://www.youtube.com/watch?v=TSv2VInC7No&feature=youtu.be
###