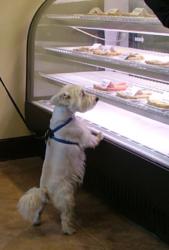 It's all about the dogs at One Lucky Dog Bakery
Medina, OH (PRWEB) February 06, 2012
Customers who live in Ohio, Illinois, Indiana, Maryland, Pennsylvania, Virginia, or West Virginia have a new offer from One Lucky Dog Bakery.
People within a few blocks of downtown Medina Ohio are greeted by that wonderful aroma of fresh baked goods that they remember coming from that bakery down the street where they grew up. Follow that smell and watch dogs dragging their owners to a small bakery where dogs are always welcome. They can try out the dog treats and then pick their own out of the refrigerated bakery case. The case is refrigerated because these all-natural dog biscuits do not contain preservatives. They also do not contain wheat, corn or soy; which are allergens for dogs and can cause skin and digestive problems. Customers report that this gourmet dog bakery will not buy any ingredients for their healthy dog treats that will not provide a healthful benefit for dogs. The dog treats have no chemical preservatives but just put the dog treats in the refrigerator in a closed container and they will stay fresh and soft for at least six weeks. Customers report that the biggest problem is dogs run to the refrigerator every time it is opened and the dog treats are gone too soon.
The only complaint of the on line Customers is the shipping cost. One Lucky Dog Bakery decided to solve that for all their Customers who live in Illinois, Indiana, Maryland, Ohio, Pennsylvania, Virginia, and West Virginia. Just click Dog Biscuit Club to read the details on the free shipment program. The Club is also for the store Customers in the Medina area who cannot find the time to visit the store. The only requirement is that Customers must order 2 bags. Customers do not need to sign up for months and months of commitment plus they can select whatever treats their dog likes. Customers are not limited to one purchase a month, when they run out and their dog wants more they just place another order.
Bring a dog to this dog bakery and have a photo taken and posted on the wall with all the other satisfied Customers.
###