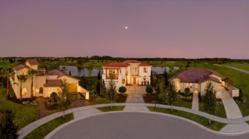 "The most successful communities serve a range of the lifestyle needs for Baby Boomers, Gen Xers and Millennials and provide homes that are flexible enough to adapt as household circumstances change," said Boyce Thompson, editorial director of BUILDER.
Washington, D.C. (PRWEB) February 06, 2012
BUILDER, the leading media brand for the residential construction industry, launches the 14th annual BUILDER Concept Home on February 8 as both a live and online experience for housing professionals and consumers. Full details can be found at http://www.builderconcepthome2012.com.
BUILDER Concept Home 2012 features three distinct homes for three different generations set side-by-side on one cul-de-sac in an Orlando golf course community. Each home reflects the specific lifestyle needs of its intended buyer: Gen X, Gen Y (Millennials), and Gen B (Baby Boomers), which represent the strongest segments of the current homebuying market.
All three homes will be open for free guided tours to attendees of the 2012 International Builders' Show (IBS) in Orlando, February 8-11. Following the convention, they will serve as the model home park for a new 2,000-unit section of Eagle Creek community near Lake Nona in Orlando.
A virtual tour of the Gen B (Baby Boomer) home will be available February 8. Visitors can preregister now and get exclusive access to a white paper on multigenerational trends in master planned communities.
Gen B House: Comfortable, plush spaces for "ME." Designed by Denver-based Woodley Architects, this home caters to Baby Boomers, the 79 million people born between 1946 and 1964. When the last child leaves the nest, Baby Boomers turn their attention to "me," and this home answers those desires. The spaces are top-of-the-line without going over-the-top, and both he and she have what they want. A lavish kitchen with all the latest appointments makes creative cooking an exciting event. The chef is almost on stage in this space, which easily flows into a family room and dining room, accented with a full bar, with long views to the pool area. The master bedroom offers easy access to the pool and spa, and features a beamed ceiling with views to the golf course. The master bath is large and luxurious with a huge double shower. Down the hall the study is his getaway for consulting work, hobbies or tracking his stock portfolio. The Gen B House is a one-story courtyard home with a wide-open floor plan for entertaining and also includes a full apartment and a guest suite for a boomerang child or occasional guests. The house encompasses 2,866 square feet of conditioned space plus 784 square feet of covered outdoor living.
Gen X House: Right size floor plan for today's family. Designed by Canin Associates of Orlando, this home accommodates a multigenerational and blended Gen X family for a generation that represents the 52 million people born between 1966 and 1985. The Gen X house features a masterful design that disguises an efficient use of space with visual excitement and stimulating views. Rarely-used formal rooms have been eliminated in favor of one large everyday living space, combining the family, dining and kitchen areas. The main living rooms open onto the outdoor living area, which effectively doubles the usable space and takes advantage of the expansive views. The home boasts strong curb appeal with a contemporary "ModMed" (Modern Mediterranean) architectural style. Other trendsetting features for today's family lifestyle include a family office the entire family can use, an upstairs "hangout/view deck" for the kids, and a multi-generational apartment that is totally self-contained for an elderly parent. The house encompasses 4,732 square feet of conditioned space plus 1,015 square feet of outdoor living.
Gen Y House: First-time homebuyers make a statement. Also designed by Woodley Architects, this home serves Generation Y, the 81 million people born between 1986 and 2005. The first-time homebuyers' budget may limit square footage, but this home design illustrates it doesn't have to limit pizzazz. Disappearing doors expand the living space far beyond the walls of the Gen Y home, and a palette with bursts of blue, green, fuchsia and orange add interest and drama. Young professionals will fall in love with this plan, which features an expansive kitchen, dining area and family room, all opening to the oversized covered lanai and pool area, where summer entertaining easily transitions to cooler fall nights thanks to a fire pit. The master bedroom is comfortable and luxurious, with private access to the pool area. The home also features flexibility as the couple's lives change with children, or perhaps aging parents. There's a detached "casita" at the entrance, perfect for a guest, au pair or visiting parents. And the home has flex space that can be a home office or exercise room, or easily converted to a bedroom or play area. The house encompasses 2,163 square feet of conditioned space plus 685 square feet of covered outdoor living.
In addition to the architects mentioned above, the project team for BUILDER Concept Home 2012 includes developer and builder Centerline Homes of Coral Springs, Fla.; interior designer Kay Green Design, Inc. of Orlando; and producer BUILDER magazine, Washington, D.C. Canin Associates also created the land plan and served as the landscape designer on the project.
For a b-roll video reel or high-res photos of the BUILDER Concept Home 2012, please go to the Media section at builderconcepthome2012.com.
About BUILDER
Published by Hanley Wood, BUILDER is the leading brand in residential construction and serves as the magazine of the National Association of Home Builders (NAHB). For more than three decades, BUILDER has provided essential news, information and resources about products, technologies, trends, regulatory requirements and best practices to help home building professionals navigate challenges for success. With an integrated media platform encompassing print, online and in-person, BUILDER is a trusted source for top builders, architects and other industry professionals across the country. http://www.builderonline.com
About Hanley Wood
Hanley Wood is a leading business-to-business media company focused on the residential, commercial construction and design industries. Its diverse portfolio includes magazines, websites, e-newsletters, exhibitions and conferences, custom marketing and data services.
Hanley Wood is comprised of four operating platforms: Media, which publishes more than 20 magazines, featuring BUILDER magazine, along with related websites, e-newsletters, and conferences; Exhibitions, which produces marquee events that bring residential and commercial construction professionals face-to-face with manufacturers, suppliers, distributors, and service providers; Market Intelligence, which collects and aggregates proprietary data sets that capture hundreds of pieces of profile and material information about housing developments in more than 750 housing markets; and Marketing, which plans, creates, and executes strategic and integrated marketing solutions for its clients. http://www.hanleywood.com
###