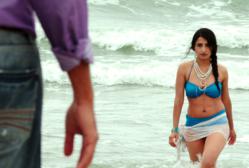 Created by award winning film writer/director Hyder Bilgrami, the movie PMK is a classy romantic love story with twists and turns that provide drama, entertainment, mystique and a thrilling experience.
Edison, New Jersey (PRWEB) February 04, 2012
Hollywood movies can take the age old story of love between a man and a woman in the most intriguing and authentic manner to produce one box office hit after another... and the movie Pyar Mein Kyun is as authentic in its story and storytelling. It is the story of 2nd generation South Asian love, romance, heart-wrenching deception and drama between an older man and a 19 year old girl in our globally connected and socially networked generation. Sometimes things are not quite what they seem!
The star casts of characters in the movie are actors Obaid Kadwani and Khatera Hakimi… with supporting roles played by Sonny Chatrath, Deena Safi, Anant Goel and Michael Dean.
Our films are aimed at younger audiences worldwide ─ over 500 million English-speaking South Asian middle class ─ that are looking for more spice from Bollywood. However, we are not making mythological movies that are fabulously unreal. We're just keeping it real, entertaining, and thrilling.
RKNet Studios and Aary Films are producing new generation digital media films in the tradition of Bollywood and Hollywood... and utilizing global talent with local resources to produce full feature films for audiences world-wide. The language in our movies is Bollywood Hindi and English... with English and Spanish subtitles.
We are going live; and on-line today with the launch of the movie website and the first look trailer.
Movie Website: http://www.pyarmeinkyun.com
# # #