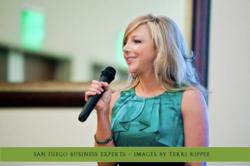 Traditional networking meets social media marketing.
San Diego, CA (PRWEB) February 04, 2012
Training in social media is one thing that businesses can't seem to get enough of these days. TechCrunch recently reported that brands are increasingly shifting their marketing resources to social marketing. With all these businesses shifting their marketing focus to social media there is an increasing demand for high quality training in social media as well, which makes it no surprise that a recent social media training provided by Mia Davies at the San Diego Business Experts was a huge success and a sold out event.
According to the research-based advisory firm Altimeter Group, which conducted a survey of 140 corporations with at least 1,000 employees, the average number of corporate-owned social media accounts is 178 per company. What once started as a trend has now taken the business world by storm and San Diego is no exception to this rule. With this growing demand for quality training in social media, Mia Davies' presentation could not have come at a better time. San Diego business owners were lined up out the door to get into this sold out event.
What made this particular event even more valuable for business owners was that attendees were not only provided with training in social media but they were also given the opportunity to join as a member of The San Diego Business Experts for ongoing weekly social media training and networking opportunities. Mia Davies stated, "Business owners can't learn everything they need to know in one training. They must have access to ongoing hands on training until the desired results are achieved" she continues, "what The San Diego Business Experts is making available is ongoing training in social media in a networking environment in which all entrepreneurs are encouraged to help promote each other and everybody wins."
To access training in social media you can attend the next San Diego Business Experts Event with Mia Davies on Feb 21, 2012 at the Sheraton La Jolla, 3299 Holiday Court, La Jolla, Ca 92037. The San Diego Business Experts is an organization in which members have access to weekly networking opportunities and social media marketing classes. Attendees at this event will learn social media marketing strategies and powerful business building strategies from the featured monthly guest as well as Mia Davies. In order to get a complimentary ticket to the event, interested participants must register at: http://www.SDBusinessEvents.com
Those that are not in the San Diego area can learn more about marketing with social media from Mia Davies at http://www.miadavies.com/4-steps-to-social-media-success/. There are numerous resources online but as Mia points out, "The key when marketing with social media is to keep it simple, consistent and focus on offering value to your target audience." As long as you stick to what is proven to work in social media you will most likely have success but it never hurts to get the step by step training from others who have paved the way.
About Mia Davies
Mia Davies has a mission to empower entrepreneurs to leverage technology to get their message out to the world through social media and internet marketing. Mia started her entrepreneurial path in traditional business when she founded a speech therapy contracting business in 2005. She later when on to learn a variety of Internet marketing skills and now provides training and coaching in social media marketing, video marketing, and Internet product creation. She combines her experience in traditional business, Internet marketing and personal growth to assist others in breaking through their barriers and taking command of their financial future.
Mia Davies
619-333-2519
Mia(at)MiaDavies(dot)com
http://www.MiaDavies.com
"I Support The H.O.M.E. Foundation"
About The H.O.M.E. Foundation:
The Helping Others Means Everything, or The H.O.M.E. Foundation, is a not-for-profit organization dedicated to helping our Family of Charities. Frank Verdugo, President of The HOME Foundation, wants to help as many worthy charities as possible as they struggle during these tough economic times. Frank Verdugo helps raise funds through luxury dream home raffles, prizes, and high profile celebrity events in Hollywood... "Our mission is to help charities reach their fundraising goals and to bring awareness to their praiseworthy causes." Please visit our Dream Home Raffle at: http://www.HOMEFoundationRaffle.com and http://www.facebook.com/HOMEFoundationRaffle.
# # #