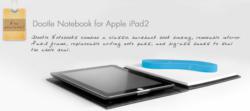 Lots of students and professionals using an iPad need to write on paper, too, and Dootle's provide that solution in a single, inexpensive case.
Jackson, WY (PRWEB) February 06, 2012
Students and professionals swamped Grifiti's website and Amazon store this week to get their hands on the first batch the new combination Dootle Notebook for iPads and Writing. At the launch party at MacWorld in San Francisco, Grifiti handed out 40% off coupons to get the word out for early adopters. The response rate and customer feedback has been forced Grifiti to significantly increase their production capacity. The iPad versions of the Dootle is the first in a line of cases that will work with other tablets, the Kindle, and the iPhone.
Grifiti will produce two versions of the Dootle for each digital device. The Dootle Book and the Dootle Notebook are similar in all respects expect one: the Dootle Notebook includes a sleeve to house either a replaceable writing notepad or writing notebook. All Dootles are beautifully crafted classic case bound hardback book covers that come in a variety of colors, cover materials, and personalization options; each Dootle includes a protective removable form fit frame that securely nests the iPad 2 and allows users to easily pop the iPad out to shoot photos, videos, or for easier sharing outside the case binding. Lots of writing notebooks come with an elastic band to hold the case closed. The vinyl stretches out after a while and needs replacing. Instead of elastic bands, the Dootle includes Grifiti's original silicone Big-Ass Bands that easily slip around the Dootle to keep it closed when on the go. For the Dootle Notebooks, the writing notepads and notebooks include 50-90 pages of archival quality acid-free paper and you can purchase replacement packs of either 3 or 12 units or use standard pads from your local office supply. The notepads are binder ready with 3 holes punched.
"The Dootle is our interpretation of all the things we really want to use in a case," said Tin Hoang, lead designer for Grifiti. "We really like the function, feel, and diversity of cover options for case bound book bindings, but we felt it was extremely important to easily pop the iPad out of the case binding so you can take pictures and share stuff with a less cumbersome feel. Most book style iPad cases lock your iPad in to the case binding so you need to lift the whole unit to take a picture. It's something we wanted to fix. In addition, our Big-Ass Bands that hold the case closed are the result of years of wearing out elastic bands on writing notebooks. We thought we'd try something new and fun and we took some inspiration from the Livestrong wrist bands and jumbo-sized them to fit our need. What's funny is the number of people who just seem to love the way they work."
Grifiti is already working with a number of schools and companies testing customized Dootle covers. Two options in test are embossed logos and laminated textbook covers. "I really like having the school logo on the cover," said Preston Stryker. "Trust me, I beat this up and it holds up really well. My favorite part is the way I can take the iPad out with just the frame and shoot video and my iPad is still protected by the skin case."
Pricing is always an issue with accessories for the Apple community. Most Book Cases are ridiculously priced even through they are just a case bound book cover with a hard frame to hold the iPad in place. Prices from $50-90 are standard. The Grifiti Dootle Book Case launches at $34.99 and the Notebook Case launches at $39.99 with a writing notepad included. "We just don't think it's fair for companies to charge such an astronomical price for something so simple and beautiful as a classic case notebook with a frame," said Mike Richardson, Grifiti's Marketing Director."Our brand is about sensible, simple products at a great price with great customer service so we're more interested building a relationship with our users for years so they can help us develop new products. Fair prices are an important part of the relationship."
The Dootle Book Case for Apple iPad2 and the Dootle Notebook Case for Apple iPad 2 and Writing are 8 x 10 x 1.125 inches. The initial colors are Black, White, Red, Blue, and Pink. Additional colors and cover materials, limited edition leather versions and limited edition art versions will launch the spring. Customization options will also be available. Retail price is $34.99 for the standard Dootle Book and $39.99 for the Dootle Notebook version. Available at Grifiti (http://grifiti.com) and Amazon (http://www.amazon.com/s/ref=sr_nr_seeall_1?rh=k%3Agrifit ...)
###