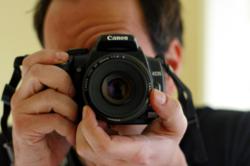 Starting the dance was definitely nerve-wrecking, but I couldn't have been prouder to do it. The already light Time Square shined so much brighter as we performed our number.
New York, New York (PRWEB) February 06, 2012
New York City photographers took a familiar new trend to the next level. On the 31st of January, photographers performed a 'flash mob' dance number in Times Square. The photographers gathered together before the event, and rehearsed a coordinated dance number scheduled to 'randomly' take place on the 31st of January. The photographers used the 'flash mob' concept, and innovated it by using the flash of their cameras.
Time square was filled with people eager for the show. At 12:00am, the photographers began their dance. The flash mob dance began with famous photographer Yoan Avici who started dancing by putting his right hand up high while flashing the street corners with the camera in his left hand. Within seconds, several other photographers joined in, and the 10 photographers danced in synchronization.
Passerby began stopping and watched in a joyful awe as the photographers danced to their 'flashy' number. "It was such an amazing experience partaking in such a avant-garde New York City street event" says Gregory Allen Deese, NYC freelance photographer. "It was like all the photographers who participated suddenly had this awesome thing connecting us, and the pictures we got while performing the dance were simply gorgeous." says Gregory Allen Deese.
Although one of many 'flash mobs' that occurred in New York City, the photography 'flash mob' was one that differed itself from any other, and acted as a model for flash mobs subsequent to it. "The dance number, although rudimentary choreographed, caused such a positive scene and brought such light to the Times Square." says Gregory Allen Deese. "Starting the dance was definitely nerve-wrecking, but I couldn't have been prouder to do it. The already light Time Square shined so much brighter as we performed our number." Says Yoan Avici, famous NYC photographer.
Summing up 2011 with a few 'flashes', the photography flash mob dancers performed their dance to the hit Lady Gaga song 'The Edge Of Glory', while simultaneously capturing vivid and beautiful photos of the New York City streets and their audience. The pictures are now sold by street vendors, and can be found on various platforms such as mugs and posters. It has been reported that three 'flash-flash mobs' occurred since the one choreographed by these photographers, definitely marking it as a trend to look out for.
About Flash Mobs
Flash mobs serve as a purpose of entertainment, and are often created to create awareness of some sort. Usually, dancers partaking in the flash mob disperse themselves in a public place, and come together to perform a dance or show. These sort of 'random' dances have been popular in places like Grand Central Station, and Times Square. It is a phenomenon prevalent worldwide, and often streamed all through the Web.
About Yoan Avici
Yoan Avici is an Italian photographer, who moved to New York City just three years ago. Since his move, Avici's work has been shown in many galleries, and is sold in some of the most lucrative art stores. He is the main choreographer of the 'flash-flash mob', and has partook in several other conventional flash mobs. His goal is to bring New Yorkers together through color, imagination, and shared positive experiences.
About Gregory Allen Deese
Gregory Allen Deese is a freelance New York City photographer, living in Greenwich Village. He is famous for his photos of New York City, and his work is sold by street vendors throughout the area. His photos usually emphasize one item in a crowded place using color, while blurring the rest. One of his most famous photos illustrates the New York City traffic shown in black and white with one Yellow Taxi cab vividly seen in front. The point of his work is to emphasize the individuality of the people living in a place where it is easy to think that everyone is very much the same.
###