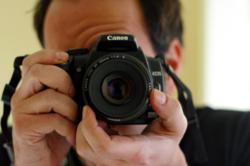 I'm so happy to partake in such a program. Giving life to those who unfortunately don't have so much life left is extremely fulfilling.
New York, New York (PRWEB) February 07, 2012
Gregory Allen Deese, a New York City photographer who has participated in flash mobs, art galleries, started an initiative involving many photographers in the big city. The photographer, looking for a philanthropic outlet for his work, started a program where photographers in the area can volunteer their time and talent.
Calling the program 'Photo Outreach', Gregory Allen advertised the first event on many social media platforms. The event was set to take place on Sunday December 11, and involved several retirement centers in the city. Retirement centers are known for having activities for their residents, and so Gregory thought of using his talent to create a fun activity for the old age home residents.
Gathering ten renowned New York City photographers, Gregory Allen Deese split them up among ten New York City retirement centers. In the retirement centers, the photographers brought several professional Canon cameras, and taught the patients of the center how to use them. The activity took about two hours, and the retirement center residents were reported to have been laughing, smiling, and eager to ask questions. Subsequent to their using of the cameras, the patients of the retirement center entered a 'black room' where they saw the print outs of their photos. At its completion, all participants were able to keep their photos.
"For a while now I've been feeling that being a photographer is a one way job, while I can capture happiness I don't necessarily feel that I cause it. I've been looking for a philanthropic outlet for my work for quite some time, and I am so happy I've found a way to do so." says photographer and founder of the Photo Outreach program, Gregory Allen Deese. "I'm so happy to partake in such a program. Giving life to those who unfortunately don't have so much life left is extremely fulfilling." says New York City Photographer Yoan Avici.
"The gentlemen who helped us was so nice. He taught me how to focus in on one item in the picture, and emphasize it using color, and blurring out the background. He took a photo of my husband and I, and it now hangs on top of my bed." says retirement center resident Estelle Myers. The Photo Outreach program has spread throughout the city and now has as many as fifty six members. Photographers all create innovative events in which they can combine their talent, as well as give back to the community.
About Yoan Avici
Yoan Avici is an Italian photographer, who moved to New York City just three years ago. Since his move, Avici's work has been shown in many galleries, and is sold in some of the most lucrative art stores. He is the main choreographer of the 'flash-flash mob', and has partook in several other conventional flash mobs. His goal is to bring New Yorkers together through color, imagination, and shared positive experiences.
About Gregory Allen Deese
Gregory Allen Deese is a freelance New York City photographer, living in Greenwich Village. He is famous for his photos of New York City, and his work is sold by street vendors throughout the area. His photos usually emphasize one item in a crowded place using color, while blurring the rest. One of his most famous photos illustrates the New York City traffic shown in black and white with one Yellow Taxi cab vividly seen in front. The point of his work is to emphasize the individuality of the people living in a place where it is easy to think that everyone is very much the same.
###