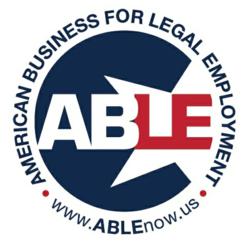 Promoting a Legal Workforce
Las Vegas, NV (PRWEB) February 14, 2012
Illegal immigration policy has clearly been a top news story for some time. While Federal and State Governments talk the talk of finding a viable solution, many American businesses struggle trying to compete against "magnet" businesses that ignore Federal hiring laws. Legal workers are feeling the pinch too.
Now, an upstart organization called American Business for Legal Employment (ABLE) is launching a grass roots private sector campaign with the sole purpose of leveling the playing field for legal employers and workers. The company plans to showcase and promote businesses following Federal hiring laws.
Marketing Director, Rusty Taylor, states "public consent for a solution is strong." "The ABLE effort is all about "nudging" the massive purchasing power of the American consumer towards businesses that hire only legal workers." Taylor continued "up until now, there really hasn't been a way for consumers to know which businesses hire legal workers and which ones don't. Currently, businesses do not display a "Made in America" mark on the front door. We intend for ABLE be the identifying mark that distinguishes between legal and illegal employment."
The company envisions the ABLE mark of compliance to be like a "legal employer seal-of-approval", which will allow consumers to drive the solution through their buying decisions. "With this simple piece of additional knowledge, consumers are empowered to change the course of the illegal employment problem" says Taylor.
Member businesses using and displaying the ABLE mark set themselves apart and will be distinct in their geographic market place. While patronizing ABLE listed businesses, consumers are assured they are dealing with a business that complies with all applicable federal and state employment policies.
Along with the rights to display and use the ABLE mark in commerce, member businesses are listed on the ABLE website (http://www.ABLEnow.us). Consumers desiring to find legal employers can simply search businesses by type and by zip codes. An ABLE smart phone application is on the way. Businesses includes a very complete profile listing highlighting each business for consumers to learn about the enterprise, where they are located, and the services they provide. It will also provide the opportunity to link directly to the business' web site. Additionally, benefits include the right to display the ABLE logo at their place of business, use of the logo on their business cards, stationary, and in their advertising.
With a simple re-direction of spending habits, the public's purchasing power becomes a very real, and possibly the most viable solution to the massive illegal immigrant issue in our country.
###