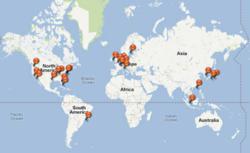 Mukilteo, Washington (PRWEB) February 05, 2012
Gemba Academy, the leading provider of online lean manufacturing and lean enterprise training, has added four new server locations in Asia and Europe. This brings the total number of server locations to twenty-four at key locations around the world, improving the streaming of high definition (HD) quality videos to all global markets.
High definition quality is a key component of Gemba Academy's product as it allows for training videos to be viewed on individual computers as well as projected into large conference and training rooms with no apparent loss of quality. This, coupled with a unique subscription model that lets subscribers train on demand as many people as they want, as often as they want, disrupts the traditional model of per-seat or per-use pricing. Over 1,000 organizations in over 30 countries now use Gemba Academy training products.
Gemba Academy offers over 220 HD-quality video training modules on lean manufacturing and lean enterprise concepts such as 5S, Hoshin Planning, Value Streams, Kaizen Leadership, Practical Problem Solving, Standard Work and Leader Standard Work, Seven Quality Control Tools, Total Productive Maintenance, Just in Time, and 3P Production Preparation Process. In addition there are regular webinars and interviews with lean leaders on topics such as lean healthcare, lean education, lean government, and lean office.
Learn why over 1,000 organizations use Gemba Academy products at http://www.gembaacademy.com.
# # #