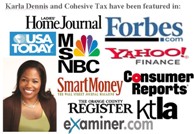 Karla Dennis is one fine lady. To achieve what she has created with Cohesive, her exponentially growing tax strategies firm, is truly amazing. It is nothing short of phenomenal - Loral Langemeier
(PRWEB) February 06, 2012
See What Karla Has To Say!
Karla delves into the topic of lowering your taxes like Mitt Romney does.
Presidential hopeful Mitt Romney paid 13.9% taxes in 2010 and about 15% in 2011.
How does he do it? And most importantly, can you do it?
Listen to the nation's go to expert on taxes, Karla Dennis as she talks about taxes tax loopholes, and what YOU can do to reduce your tax rate.
You can't afford to miss this.
She will speak in-depth about how it is possible to reduce your tax rate and pay less taxes. She will talk about how Mitt Romney uses investments as a vehicle to earn more money. her goal is to educate and inform the public about how it is possible for the average person to make a change in their tax situation and use their filing status as an asset in an attempt to elicit the most favorable tax situation possible.
In a time of economic hardship many of the nation's rich have benefited through tax loopholes which enable many to pay less taxes as well as keep more of their money.
This free webinar will expose some of the tactics used to achieve such financial advantages, and everyone is invited to listen and learn.
To listen, go to the link below and register:
Click Here To Register For This Free Webinar
From Cohesive Tax™
###