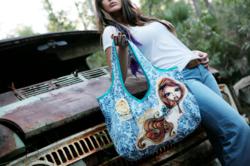 Regarding Migdalia's dolls, "My inspiration comes from my love for the woman's body. Each illustration represents a woman of power, beauty, and independence. Their face is the window to the mood of the drawing. It sets the tone for the rest."
West Palm Beach, FL (PRWEB) February 06, 2012
Migdalia™ announced today the official launch of their fashion forward upcycled tote bags. Migdalia™ signature bags have created quite a buzz in South Florida and are now being positioned to reach a much broader audience through their new web site.
Saving the world with designer tote bags might sound far-fetched to the uninformed, but to those recessionistas who have been following the explosion of upcycled and recycled fashions in recent years, it makes perfect sense.
According to the EPA Office of Solid Waste, Americans throw away more than 68 pounds of clothing and textiles per person per year. Migdalia™ Upcycled Bags resurrect the best of these fabrics and elevate them into utterly unique works of art. For Migdalia™, the whole is definitely greater than the sum of its parts; however, these parts are pretty great.
Migdalia™ handcrafts her one-of-a-kind bags by meticulously sourcing high quality vintage fabrics and re-styling them into exceptionally stylish and on-trend tote bags. No simple rags-to-riches exercise, Migdalia™ balances color, texture and design with her signature appliqué fashion illustrations. Visually arresting, Migdalia™ signature dolls evoke many qualities, from the ethereal to the sensual, but always a celebration of the fiercely independent woman.
Vibrant and hip, fun and funky, Migdalia™ tote bags transform the discarded into art, proving that sustainability needs not be dull and unfashionable. Check out Migdalia™ startling handcrafted tote bags at RecycleMyBag.com and we're sure you'll find one that will be "your bag."
Contact Migdalia, LLC
If you'd like more information about Migdalia™, or to schedule an interview with Migdalia™, please contact:
Darren Pace, Media Relations
MIGDALIA, LLC
Tel: 561.313.4534
Email: info(at)RecycleMyBag(dot)com
Web: http://www.RecycleMyBag.com
Facebook: Facebook.com/RecycleMyBag
###