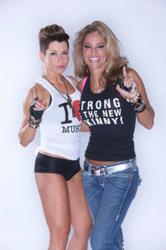 Glamour & Fitness Game Changer Jennifer Nicole Lee Confirms Hosting the Worlds 1st Ever Fitness Model Factory Event in Los Angeles with West Coast Super Model Winner & Modern Mom Marina Aleksintser
Miami, FL (PRWEB) February 05, 2012
Jennifer Nicole Lee has set the bar even higher in the fitness/fashion/glamour and beauty industry with the formal announcement of her hosting a onetime only special event in Los Angeles on April 22, 2012 for her world famous Fitness Model Factory production. Produced by her company JNL Worldwide Productions, JNL and her team plan on shaking up the west coast, by cherry picking five very lucky ladies to work with Jennifer one on one.
Alongside JNL will be the world's first West Coast Winner to the Fitness Model Factory Casting call, Mrs. Marina Aleksintser, who is a proud dedicated wife and mother. This fierce fashionista who also have a love for living a super fit lifestyle will be setting the event to a new standard as she shares her own beauty, wellness and fitness secrets, and also dishes on how much fun and enlightening it is to work with JNL, and to know her on personal and professional level.
Marina is also a motivational weight loss success story, who gained her fit figure back after baby with the inspirational story of JNL. When asked what it was like to work with Jennifer, Marina stated "the opportunity to be directed and coached by Jennifer Nicole Lee personally at the high-end production set, the experience was simply surreal and unforgettable. Little did I know that this was only the beginning of something larger than I could ever imagine. Within weeks phone calls and emails started rolling in with invitations from the movers and the shakers in the fitness and fashion industry with invitations to most exclusive fashion and art events, magazine photo-shoots, the list goes on and on." Marina went on to say "the superior quality of the photos and videos produced at the West Coast Fitness Model Factory event, the rolodex I had walked off the set with, but most importantly the overwhelming feeling of self-confidence and self-worth, and the fact that I was no longer just a number in the industry had set me up for enormous business and personal success."
Marina is the President and creative force behind http://www.BikiniMommyOnline.com , an exceptional community of women and mom who aspire to be their very best, both inside and out. She loves to write, direct, create, and this is why JNL and her enjoy helping other women as well, as they fill a void left by the beauty and fitness industry. She went on to say "Jennifer Nicole Lee is so unique and innovative - her message which she passed on to me, the message that will set the fitness, beauty, art and glamour industries on fire - JNL Worldwide is here to help women learn how to turn a deaf ear and blind eye toward the ridiculous injunctions about what defines beauty, intelligence, or success and instead how to create our own yardsticks based on our unique aspirations and talents."
The lucky elite group of women who will be selected by JNL will enjoy the time of their life, as their life's destiny will forever change for the better.
Their incredible day will include a coaching by Jennifer Nicole Lee, a powerful seminar by Marina Aleksintser, hair and makeup services for the Fitness Model Factory participants, photo shoot by JNL's own personal Celebrity photographer, [JNL Clothing swag bags, and the ability to be in JNL's Future JNL clothing campaign.
For more info, please visit http://www.FitnessModelFactory.com
###