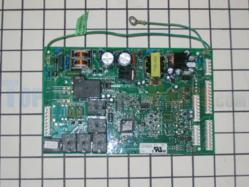 Top Quality. Best Price
Wilmington, DE (PRWEB) February 06, 2012
TopApplianceParts.com, one of the leading appliance parts online stores, is always on the lookout to provide consumers with most competitive pricing on all types of appliance parts.
One of the most commonly purchased appliance parts is a refrigerator main control board WR55X10942.
Because of such high demand for this product, TopApplianceParts.com has purchased large quantity of this appliance part at manufacturer's lowest rates and is passing on the savings to its customers.
Customers can buy the appliance part number WR55X10942 from going to the following page http://www.topapplianceparts.com/PartDetail.aspx?v=1&pid=1809832 at 27% off discount.
If customers order the appliance part before 12 noon in most cases the part is received the next day. They offer this benefit because we understand how important the refrigerator repair is to the consumers.
This appliance part WR55X10942 also replaces the following part numbers:
WR55X10474, WR55X10523, WR55X10524, WR55X10526, wr55x10037, WR55X10045, WR55X10056, WR55X10065, WR55X10079, 1194711, WR55X10529, WR55X10554, WR55X10558, WR55X10606, AP3950129, WR55X10372, WR55X10379, WR55X10381, WR55X10385, WR55X10396, WR55X10416, WR55X10426, WR55X10090, WR55X10110, WR55X10151,
and
WR55X10171, WR55X10188, WR55X10228, WR55X10552, WR55X10294, WR55X10314, WR55X10335, WR55X10336, WR55X10339, WR55X10358, WR55X10366, PS1019640, PT11850387, wr55x10024, WR55X10427, WR55X10432, WR55X10436, WR55X10456
About TopApplianceParts.com
Customers of TopApplianceParts.com can benefit from 30 days returns, same day shipping, live chat on the website, and free appliance repair videos.
Visit TopApplianceParts.com to learn more.
# # #