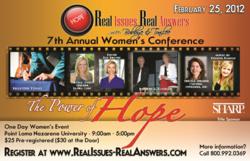 This event in San Diego will be our largest to date and we are very appreciative of Sharp Healthcare as our title sponsor
San Diego, CA (PRWEB) February 06, 2012
Bobbye Brooks and Tonilee Adamson, co-founders of Media 4 Women and Daily Disciples Ministries announce the launch of their 7th annual women's conference, held on the campus of Point Loma University in San Diego, California on Saturday, February 25, 2012. This one day women's event is titled, "The Power of Hope," and is designed to reach women from across Southern California.
Bobbye and Tonilee are entrepreneurs, speakers, authors and radio/television hosts who have inspired countless numbers of people to start their own business. These events captures the essence of motivating women to believe that their dreams can come true and to never give up on the "hope" of a brighter future.
"We are so excited to see more and more women stepping out and taking those steps toward freedom and independence, to grow stronger in their faith and to inspire others in the power of hope. This event in San Diego will be our largest to date and we are very appreciative of Sharp Healthcare as our title sponsor," states Tonilee Adamson. For $25 a ticket, attendees will enjoy a day of music, special guest speakers, lunch by Panera Bread and much more, even parking is included in the ticket price.
"The ticket price is intentionally affordable, and we appreciate those who graciously support those who cannot afford even an extra $25. We consider this event a huge outreach for women in the San Diego community," says Bobbye Brooks. Pre-registration is strongly encouraged due to expected attendance. Ticket holders can easily grab a seat and not stand in the long lines at registration. Group discounts are available for those who purchase 4 or more tickets and can be purchased online at http://RealIssues-RealAnswers.eventbrite.com.
About Bobbye and Tonilee:
Bobbye Brooks and Tonilee Adamson are co-founders of several businesses, including Media 4 Women Enterprises and their non-profit, Daily Disciples Ministries. They host a weekly Internet television program called Real Issues-Real Answers with Bobbye & Tonilee and a weekly radio program. Media 4 Women Enterprises is a fast growing marketing and media company that has helped launch numerous new businesses. More information is available at http://www.Media4Women.com.
###