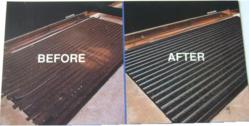 "Ultimately we seek to assist each commercial property manager to be better stewards of the assets they have been trusted to manage." - Gary D. Storz, President, The Mad Matter, Inc.
Atlanta, GA (PRWEB) February 06, 2012
The floor mat solutions offered by The Mad Matter, Inc. have helped property managers, facility managers and owners of commercial buildings to cut operating costs, prevent slip and falls and enhance the aesthetic appeal of commercial buildings for almost two decades. As most building managers seek ways to cut costs and increase the bottom line, The Mad Matter, Inc. is proud to announce that it has developed a simple system to renovate some existing recessed mats, aluminum foot grilles and aluminum roll up mats. This renovation involves replacement of the worn portions of certain types of floor matting. The breakthrough is that this refurbishment method can be easily performed onsite by a building engineer or handyman. Refurbishment of recessed floor mats can be achieved at a fraction of the expense of replacing the entire floor mat. During tight financial times, a property manager may find that repairing an existing recessed mat is an attractive alternative.
When faced with an ugly floor mat at the main entry, a property manager faced with the costly proposition of replacement or refurbishment of an existing recessed mat. To make matters worse, this type of recessed mat is very expensive to replace and poses considerable challenges to those who do not regularly deal with this type of floor matting. Recessed aluminum floor mats are expensive. They often cost over $30.00 per square foot (i.e., a recessed mat that is 6' x 6' can cost over $1,000.00 to replace, etc.)
Many recessed mats fall into the category of either a deep pit aluminum foot grille or a recessed aluminum floor mat that can be rolled up. These types of recessed aluminum floor mats generally consist of sturdy aluminum tracks that are outfitted with a polypropylene, vinyl, abrasive or carpet insert designed to absorb moisture or to scrape dirt off of the shoes of pedestrians entering the building. Unfortunately, the floor mat inserts are not as sturdy as the aluminum that holds them in place. Through normal use, the floor mat inserts can become stained and/or worn resulting in an unappealing first impression to anyone who enters the building.
Fortunately, aluminum floor mats are designed to be refurbished. If the recessed mat has not been damaged, it may be a candidate for renovation. The mat inserts can be replaced with new inserts supplied by the actual manufacturer of the original mat provided. Unfortunately, most manufacturers do not label the mats, resulting in the end user being tasked with the challenge of properly identifying who originally produced the floor mat. To compound the problem, the inserts from one factory will not usually fit into another factory's aluminum floor mat. To overcome this issue, The Mad Matter, Inc. has produced a line of carpet inserts that will fit into almost any aluminum recessed floor mat or foot grille. There is a line designed for interior use and another for exterior applications. To make installation easier, The Mad Matter, Inc. developed a method that precludes the need for special tools which serves to allow individuals which makes the refurbishment process much more simple.
Until now, renovating recessed aluminum mats has been a confusing and time consuming endeavor. The process developed by The Mad Matter, Inc. has eliminated many of the obstacles to a successful recessed mat renovation. A simple approach toward proper measurement and installation of inserts supplied by The Mad Matter, Inc. allows any person with limited technical ability to quickly transform a tired, worn-out recessed aluminum mat into a visually appealing and effective matting system.
"Here at The Mad Matter, Inc., we understand the floor maintenance and safety challenges a property manager faces each day, and we seek to offer them affordable floor mat solutions," comments Gary D. Storz, President of The Mad Matter, Inc.
About The Mad Matter, Inc.
Based near Atlanta, GA, The Mad Matter, Inc. has been providing affordable floor mat solutions to Commercial Property Management and Governmental entities since 1992. The company provides consultation and assistance to businesses in the US and Canada at MadMatterInc.com.
###