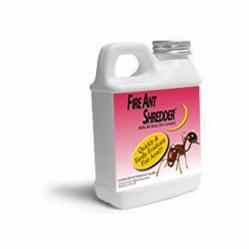 The Planet Amazing report on fire ants shows how microcrystals can be used to safely stop the fire ants.
(PRWEB) February 04, 2012
It's a story that a scary movie might tell, says Planet Amazing in a new report: "Millions of new fire ants are overwhelming homes in the Southern U.S., including a type of fast, hairy aggressive fire ant from South America."
According to CNN.com, "The flea-sized critters are called crazy because each forager scrambles randomly at a speed that your average picnic ant, marching one by one, reaches only in video fast-forward. They're called hairy because of fuzz that, to the naked eye, makes their abdomens look less glossy than those of their slower, bigger cousins. And they're on the move in Florida, Texas, Mississippi and Louisiana. In Texas, they've invaded homes and industrial complexes, urban areas and rural areas. They travel in cargo containers, hay bales, potted plants, motorcycles and moving vans. They short out industrial equipment."
Justin Douglas, expert researcher at Planet Amazing, says that the Fire Ant Shredder product from Planet Amazing is a non-toxic solution for these insects. "When some homes are spending thousands of dollars a year to stop this type of fire ant in the South, they could save a lot of money by using Fire Ant Shredder from Planet Amazing, and then the results would also be environmentally friendly for everything but the insects," he says. "People may not realize that fire ants are on the increase and it is possible for millions to infest a house in a few weeks. This is already reported on in the national news and has been studied by scientists. So if you notice fire ants beginning to build up in your yard or house, you should deal with it immediately. Some of the ants avoid digging out anthills and prefer to nest in sheltered, moist spots like the wall of your basement."
The Planet Amazing report on fire ants shows how microcrystals can be used in a non-toxic powder to safely stop the fire ants and not hard your pets or any people in a home, and the powder will also be safe for plants.
Mr. Douglas says "Fire Ant Shredder works unlike any other product on the market today to handle your fire ant problem. To fire ants, the microcrystals in Fire Ant Shredder is a deadly powder with microscopic jagged edges. Because Shredder kills the fire ants physically, instead of chemically, they cannot become immune to it, which is what happens with pesticides that use toxic poison for fire ant control. Although Shredder is lethal to fire ants, it is completely safe for humans and pets because the sharp edges are too tiny to harm anything other than fire ants. In fact, farmers have used the ingredients in Shredder for years to prevent fire ants from getting into their food storage areas."
For more information, visit the Amazon.com website for Fire Ant Shredder from Planet Amazing.
Planet Amazing is an EPA registered manufacturer and packager of family friendly and environmentally safe pesticides and other products. Planet Amazing sets high standards for their operating companies in the area of environmental responsibility — striving for performance that does not merely comply with regulations but reduces the environmental impact. They commit to take care of our planet and preserve its beauty, resources and strength for future generations. Planet Amazing embraces research and science - bringing innovative ideas, products and services to advance the lives and well-being of people. Employees of the Planet Amazing family of companies work with its partners in order to touch the lives of people every day, throughout the world.
###